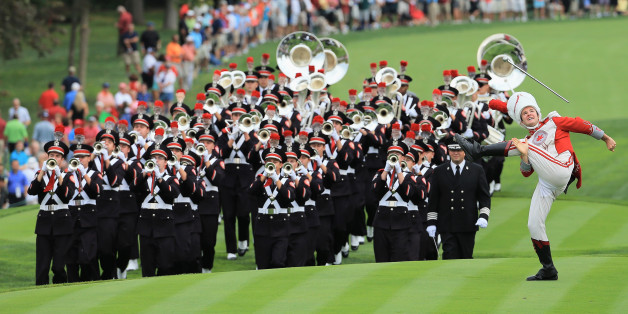 Ohio State University is moving forward with a second review of allegations about its marching band, after an initial investigation found multiple instances of hazing among band members. The first report led OSU to fire band director Jonathan Waters, even as alumni have disputed its findings.
The new, external task force is being led by former Ohio Attorney General Betty Montgomery.
Montgomery said in a statement that her task force will include four outside higher education consultants and law firms with expertise in the gender equity law Title IX.
"Members of the external task force that I lead will conduct a cultural assessment, review university administrative processes and oversight and provide counsel on Title IX compliance matters," Montgomery said. "Our task force's report will also answer some remaining questions and provide the university with guidance moving forward."
But the task force does not plan to reexamine claims from the first report.
That report, issued last month by the university, details a range of sexualized hazing practices alleged to have taken place while Waters was band director. The report claims, among other things, that often new members were given nicknames and "tricks" they were expected to perform, several of which mimicked a sexual activity.
In an email to HuffPost, Waters' attorney, David Axelrod, criticized the initial investigation for having interviewed only four of 240 current band members and student staff, "i.e., less than 2 percent of the available sample." In a previous statement, Axelrod referred to the investigation's findings as "fallacious" and without merit.
Alumni have been writing open letters disputing the original investigation's findings, and have called for Waters' reinstatement.
One alumna wrote that her supposed sexually explicit name, "Donk," was not offensive at all, and that investigators didn't bring it up when she was interviewed.
Another former band member came forward to dispute allegations from the report that pertained specifically to her.
Lindsay Barrie told a local NBC affiliate she was the person whose nickname, as identified in the report, was "ERV," or "E. Row Vibrator," and that the claim she had pretended to be a vibrating sex toy was a "lie."
"My rookie trick ... was to go [dancing] 'shake your bon bon, shake your bon bon,'" Barrie told the station. "That was it."
When asked about Barrie's assertion, OSU spokesman Gary Lewis Jr. said the university stands behind its investigation and its decision to terminate Waters.
"Our focus and our actions have been and will continue to be about our students and the imperative to ensure that every single person on our campus is able to learn, grow and experience Ohio State in a safe and positive environment," Lewis told The Huffington Post in an email. "The University believes that it is in the best interest of the student members of the band, and the entire University community, to move forward and prepare for the upcoming season and academic year."