Does it look to you like the pig is having a good time here?
As of Friday afternoon, some 45,000 people who think this is no positive porcine experience have signed a Change.org petition calling for a Catholic church in Wisconsin to nix this year's "pig rassling" contest. The event is scheduled for Sunday and is part of a weekend-long, annual fair-cum-fundraiser for the St. Patrick Parish in the town of Stephensville.
According to the petition, pig wrestling -- an activity which has long drawn criticism from animal lovers -- involves animals being "punched in the face, kicked, body-slammed, jumped on, yelled at and thrown into a bucket" by five or six people at a time. The petition says this is a violation of the state's animal cruelty law.
"Absolutely not. Absolutely, totally wrong. They aren't put in a bucket. They aren't put in anything. They are not punched, kicked," Ken Bilgrien, a deacon with St. Patrick, told a local Fox affiliate. "These young girls that end up face down in the mud -- I swear the pigs stopped and turned around and laughed at them, so it's a fun event and really, we think the pigs enjoy it."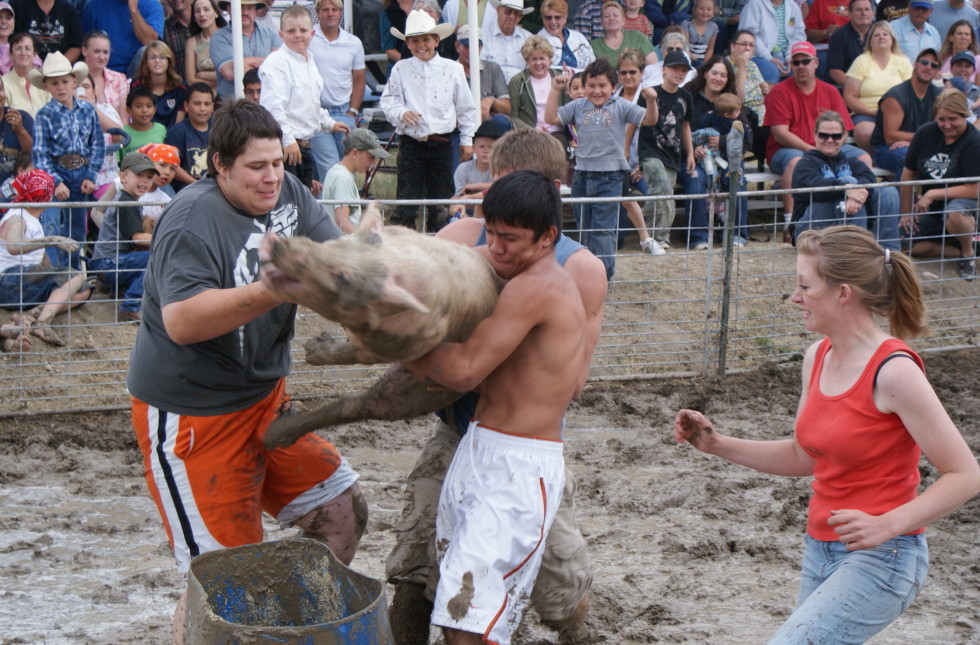 Pig wrestling at the 2009 Weston County Fair, in Newcastle, Wyoming. (Image credit: Kasl Radio/Flickr)
Those who disagree include Shirley Manson, of the band Garbage, who released a statement through the Humane Society of the United States.
"Wisconsin has a special place in my heart since my band Garbage got its start there," Manson said. "We are better than this unnecessary and abusive activity. Please cancel the Roundup Pig Rassle immediately and permanently."
But Capt. Mike Jobe of the of the Outagamie County Sheriff's Department says the event operates within the law and that police officers will be present to protect participants from any rowdy protesters.
"What they're doing is not illegal," Jobe said to the Post-Crescent. "We'll be monitoring the situation and assessing. I'm not going to have a standing army up there to protect the pig wrestlers. We'll react to whatever presents itself."
The Huffington Post reached out to St. Patrick to ask if pigs have been punched or hurt in ways that aren't obvious from video footage (above) that the World Animal Awareness Society says it filmed during last year's event.
Spokesperson Amber Backus replied, in part:
Consideration is taken to ensure that the pigs are safe and free from any abuse. After consultation with local law authorities, it has been determined that there is no illegality associated with this event. St. Patrick Parish does not condone animal abuse.
A writer for the website Catholic.org expressed displeasure with the parish hosting such an event:
It must be noted that the essence of such an event -- what makes an event entertaining for the public, is the distress that the animal feels at being pursued and manhandled into a bucket. Although the event has been enjoyed for 44 years, this is not justification that it is without cruelty.
The parish's pig rassle first caught public attention after a piece about it was published on Examiner.com. Other activities planned during the weekend include a parade, a silent auction, live music -- and a pork dinner.
UPDATE, August 10, 2014: The pig rassle went on as scheduled. So did the protests The Post-Crescent has lots and lots of photos of both.
Stephensville pig wrestling draws protesters, but fundraiser proceeds as planned. http://t.co/6H4zayHJeg pic.twitter.com/85fQiMfKL1

— Duke Behnke (@DukeBehnke) August 11, 2014
An earlier version of this piece incorrectly said that the pig rassle is scheduled for Saturday.
BEFORE YOU GO
PHOTO GALLERY
Animal Photos Of The Week