An 87-year-old-nudist is gunning for a new job: the sheriff of Island County, Washington.
But if Dave Olinger is elected, he could face a big problem: Where would he pin the badge?
Olinger is running as a write-in candidate, mainly because he was unhappy that a number of Republicans were running for elected positions unopposed. After finding out that Washington State doesn't recognize the nudist party as a political organization, he opted to run as a Democrat.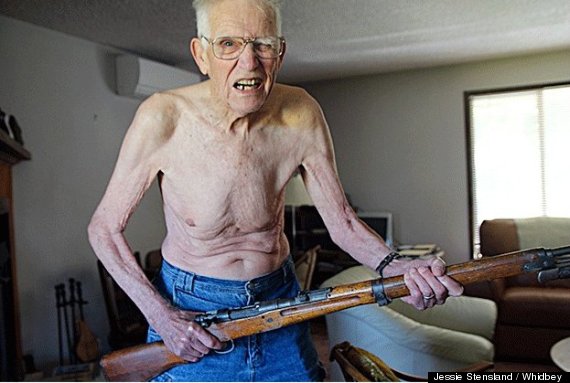 Image Credit: Jessie Stensland / The Record
"He's a well-intentioned person concerned about a very real problem," Aaron Simpson, chairman of the Island County Democrats, told the South Whidbey Record.
His wife, Kay, believes Olinger has other reasons besides public service for running.
"I think he watches too much of that Jon Stewart," she told the Los Angeles Times.
Olinger isn't completely unqualified: The former school teacher served in World War II as a marksman, (after being turned down at first for a lifelong bedwetting problem) and he has a political science degree from UC Berkeley.
His wife says that he won't be nude on the job. That much.
"Well, it's not as if he walks around everywhere naked, but he does like to lay out in the sun naked," she said, according to UPI.com.
Island County held its primary on Tuesday, but votes are still being counted.
If he gets 180 write-in votes, his name will appear on the November ballot.
Image Credit: Jessie Stensland / The Record
Like Us On Facebook |

Follow Us On Twitter |

Contact The Author
BEFORE YOU GO
PHOTO GALLERY
Things You Can't Do Naked