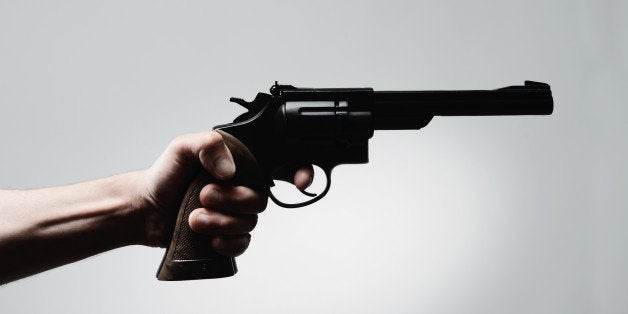 In fact, only 23 percent of Americans said it should be legal for the blind to own guns at all, while 51 percent said it should be illegal. Democrats (62 percent to 12 percent) and independents (50 percent to 25 percent) were more likely to oppose allowing the blind to own guns. Republicans were fairly evenly split on the issue, with 33 percent in favor, 34 percent opposed and 33 percent not sure.
Even fewer Americans said the blind should be able to obtain permits to carry guns in public. Only 16 percent said they support open-carry permits for the blind, while 66 percent said they were opposed. Seventy-seven percent of Democrats, 63 percent of independents and 55 percent of Republicans said they were against allowing the blind to carry guns outside the home.
Someone connected with the "let the blind carry" video may have recognized the true unpopularity of its argument. The video has been taken down from the NRA News website and from YouTube, TPM reported.
Still, the question isn't purely academic. The state of Iowa actually does allow blind individuals to purchase guns and carry them publicly. Dom Raso, who made the NRA News video, noted that he was responding to one local sheriff who had said he wouldn't issue open-carry permits to blind gun owners.
The new poll found limited love for open-carry permits generally. Only 42 percent said they favor allowing private citizens with a permit to carry guns in public places, while 50 percent said they opposed such laws.
But there's a large partisan divide on the issue. Sixty-six percent of Republicans said they support open-carry laws; only 18 percent of Democrats felt the same. Independents were divided, with 47 percent in favor and 42 percent opposed.
The HuffPost/YouGov poll was conducted Aug. 6-7 among 1,000 U.S. adults using a sample selected from YouGov's opt-in online panel to match the demographics and other characteristics of the adult U.S. population. Factors considered include age, race, gender, education, employment, income, marital status, number of children, voter registration, time and location of Internet access, interest in politics, religion and church attendance.
The Huffington Post has teamed up with YouGov to conduct daily opinion polls. You can learn more about this project and take part in YouGov's nationally representative opinion polling. Data from all HuffPost/YouGov polls can be found here.