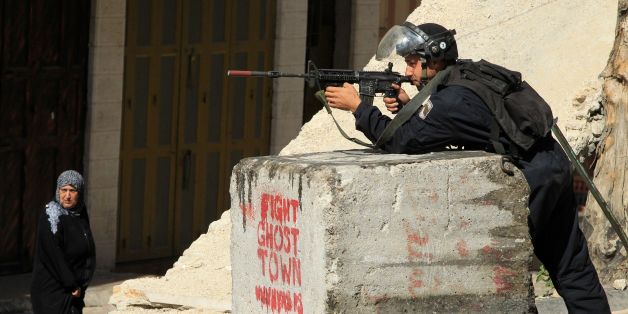 JERUSALEM, Aug 10 (Reuters) - Israeli soldiers killed a Palestinian boy during a confrontation with rock-throwing protesters in the occupied West Bank on Sunday, a relative who witnessed the incident said.
Youssef al-Anati said his 11-year-old nephew, Khalil, was shot dead even though he was not taking part in the disturbances near the city of Hebron. The boy was taken to a local hospital, which said he had been hit in the back with a live bullet.
"Khalil was standing outside and at a distance some kids were throwing stones at the Israeli army," Anati told Reuters. "Suddenly Khalil collapsed to the ground and we rushed to him; he was all covered in blood."
The military said troops shot in response to a "violent riot" and that it was investigating Khalil al-Anati's death.
"Forces opened fire towards main instigators (of the disturbance), identifying a hit," the military spokesman said in a statement. "Initial indication suggests that unfortunately, a Palestinian boy was killed by the fire. The circumstances are being reviewed."
Tensions in the West Bank have run high during Israel's more than month-old war with Islamist militants in the Gaza Strip, another territory where Palestinians seek statehood. (Reporting by Ali Sawafta; Writing by Dan Williams; Editing by Jeffrey Heller)
BEFORE YOU GO
08/05/2014 4:20 PM EDT
Israel Arrests Kidnapping Suspect
Reuters reports that Israel has arrested one of the suspects in the kidnapping and killing of three Israeli teenagers in the West Bank in June.
Hussam Kawasme, a 40-year-old resident of the West Bank city of Hebron, was arrested on July 11 in connection with the killing of Israelis Gil-Ad Shaer, Naftali Fraenkel and Eyal Yifrah, who went missing on June 12 and were discovered dead a couple of weeks later.

Their kidnapping sparked a cycle of violence that led to the month-long conflict between Israel and Palestinian militants in the Gaza Strip.

Kawasme's arrest was made public for the first time on Tuesday in a document from an Israeli court case over whether houses belonging to him and two other suspects - who remain at large - should be destroyed as a punitive measure.

The lawyers listed as representing Kawasme were not reachable for comment.

The court document said Kawasme had admitted to helping to organize the kidnapping - securing funding from the Hamas Islamist group in Gaza and purchasing weapons which he passed on to the two other suspects who carried out the attack.

Kawasme also helped to bury the bodies of the teenagers in a plot of land he had bought a few months earlier, it said.

Israel has named the other two suspects in the case as Marwan Kawasme and Amar Abu Aysha.