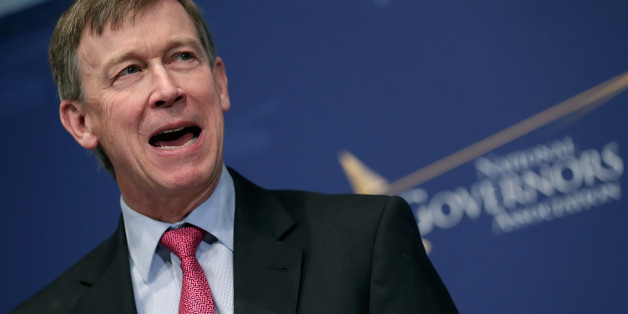 By Daniel Wallis and Keith Coffman
DENVER, Aug 10 (Reuters) - When Colorado Democrat John Hickenlooper was elected governor four years ago, the ebullient former Denver mayor and brew-pub magnate could do little wrong.
Once spoken of as a possible vice presidential candidate in 2016, the 62-year-old has burnished his man-of-the-people image with impromptu banjo performances and folksy charm.
But after a first term wrought by controversies over gun laws, fracking and taxes, and with a strong Republican establishment candidate now lined up against him, Hickenlooper is now enmeshed in a tougher reelection fight than had been expected.
Painting the governor as weak and unprincipled, Republican opponents jumped on an apology he made to the state's elected sheriffs for approving part of a package of gun control laws following the Aurora and Newtown shootings.
And environmentalists have also slammed the former geologist for being too cozy with energy company executives in the state's emotive debate about fracking.
"It's going to be a very close race," said Floyd Ciruli, an independent Denver pollster and political analyst, adding that he thinks Colorado's strong economic recovery gives Hickenlooper the edge.
WILDFIRES AND FLOODS
Hickenlooper's Republican opponent, former congressman Bob Beauprez, dismayed the governor's supporters last month when he held off a GOP primary challenge from a maverick and polarizing contender, Tom Tancredo.
Beauprez's credentials bring him funding, and he'll need it. In their first head-to-head month, Hickenlooper raised about $353,000 from late June to late July, while Beauprez brought in around $261,000, campaign finance figures show.
Overall, Hickenlooper has raised some $3.4 million, and his team says it has spent $1.4 million on TV ads for the fall.
They appear to be running neck-and-neck, with one reputable poll last month giving the governor a 6-point lead, then just a day later another poll giving Beauprez a 1-point edge.
The second survey, by Quinnipiac University, said Hickenlooper's job approval rating fell to 48 percent, from 52 percent in April.
Still, that's a far cry from the 66 percent approval he enjoyed in late 2012, after being hailed for his calm response to the state's worst-ever wildfire, and then a deadly shooting rampage at a suburban Denver movie theater.
He also won plaudits last year when more devastating wildfires were followed by widespread floods, some of which he toured on crutches after having hip surgery.
It is the stricter gun laws he approved after the movie theater massacre that triggered his opponents' most vitriolic attacks. They also prompted most of Colorado's elected sheriffs to sue in federal court to try to block them, saying they severely restricted citizens' constitutional right to own and bear arms.
That lawsuit failed, but at a meeting with the sheriffs in Aspen in June, the governor said his administration had "screwed up" the issue of expanded background checks for gun buyers.
"I guess I didn't get it," Hickenlooper said.
RIVALS SMELL BLOOD
Supporters say he was trying to seek common ground with opponents, but his rivals smelled blood.
Beauprez called it a "bizarre" explanation that he said typified Hickenlooper's lack of leadership. He also cited the decision to grant a temporary reprieve to the state's longest-serving death row inmate, who was slated for execution last year until the governor intervened.
"If he won't lead, I will," Beauprez told Reuters.
The former congressman, who sold the family's dairy farm to develop a golf resort then made his fortune in banking, lost a gubernatorial race eight years ago to then-Denver District Attorney Bill Ritter.
Beauprez will also try to score against Hickenlooper over his backing for a renewable energy mandate that Beauprez said would hurt rural schools and hospitals by raising rates, as well as a failed $950 million tax hike for education reform proposed by the Democratic-led legislature.
Hickenlooper is fighting back. He says Colorado has gained more than 200,000 jobs since he took office, seen 32 consecutive months of job growth, and that unemployment has dropped from 9.1 percent in 2010 to 5.5 percent in June.
He hailed a deal he brokered in the fracking debate , and last month he named more than 120 prominent Democrats, Republicans and independents who he says support him.
They include some former donors to the Beauprez campaign such as Chad and Troy McWhinney, founders of the company that bears their name and which leads the redevelopment of Denver's recently reopened Union Station.
"Colorado has come so far in just a few years," the governor said in a statement. "We must keep our momentum going." (Reporting by Daniel Wallis and Keith Coffman; Editing by Eric Beech)
BEFORE YOU GO
PHOTO GALLERY
United States Governors