Sometimes love really does conquer all -- even a torrential downpour from a hurricane determined to ruin your wedding.
When Katy Lomas and Richard Owen tied the knot at Wentworth Castle in South Yorkshire, UK on Saturday, they and their 100 guests found themselves in a foot of water after a storm from the remains of Hurricane Bertha wreaked havoc on their nuptials.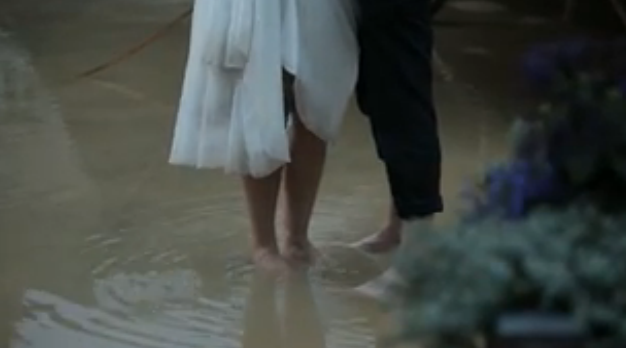 Credit: First Sight Wedding Videos
But the couple didn't allow the pouring rain -- which was leaking through the roof during their vows -- to get in the way of what they were there to celebrate: love.
"It actually made the day everything it should have been and more," Owen told the Daily Mail. "A lot of people have said our wedding takes you back to what weddings are all about. It's not about the perfect venue and the perfect flowers, or even the perfect weather. It's about Katy and I getting married -- and that's what we did."
But the celebration wouldn't have been possible without help from friends, family and the event staff, who hiked up their dresses and pants, waded through muddy water and moved the reception from outside tents into the covered conservatory.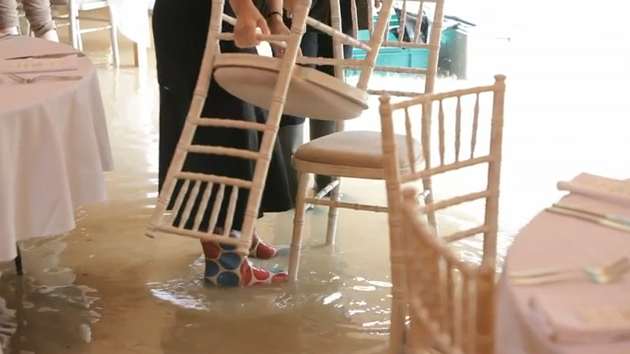 Credit: First Sight Wedding Videos
"We were faced with it and had to react on the spot," Owen explained to the Daily Mail. "But the caterers, the venue and everyone just leapt into action ... it was a case of rolling up trouser legs, ladies picking up the bottom of the dresses, shoes being flung here there and everywhere. Everyone was lifting tables, carrying them into the conservatory. Even the cake came through on a wobbly table."
Thankfully, a wedding videographer was there to capture the entire event: from the leaky roofs, to the wet guests, to the bride and groom prancing barefoot in the rain, giant smiles on their faces the entire time. Watch the video above to see how everyone made the very best of a bad situation.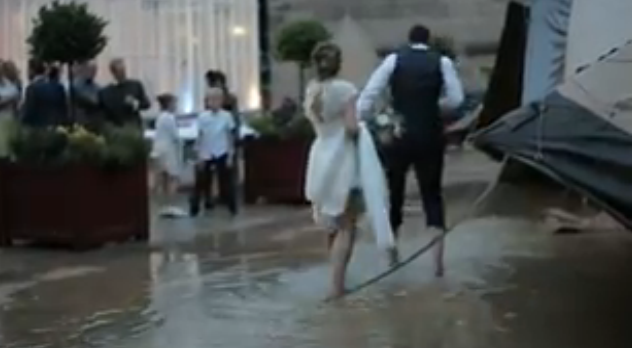 Credit: First Sight Wedding Videos
Keep in touch! Check out HuffPost Weddings on Facebook, Twitter and Pinterest. Sign up for our newsletter here.
BEFORE YOU GO
PHOTO GALLERY
45 Emotional Grooms' Reactions