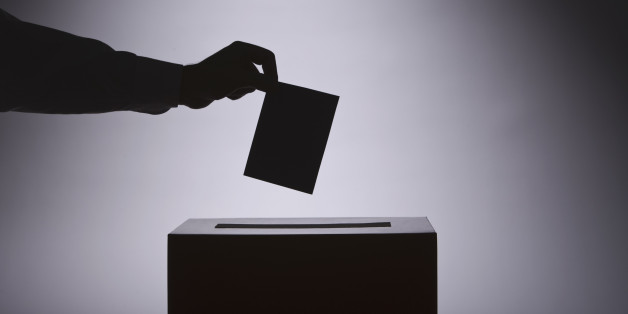 FiveThirtyEight finds some pollsters may be piggybacking off others' results. A Republican pollster argues that the "enthusiasm gap" is overstated. And pollsters and journalists remember CBS political editor Dotty Lynch. This is HuffPollster for Monday, August 11, 2014.
ARE 'BAD POLLSTERS' COPYING OTHERS' RESULTS? - Harry Enten: "The problem is that many of these nontraditional polls may be cheating, adjusting their results to resemble higher-quality polls. We can see this by looking at polling from the final three weeks of Senate campaigns since 2006: in races without traditional, live-interview surveys (what we'll call gold-standard polling), nontraditional polls have had significantly higher errors than they've had in races with at least one gold-standard poll. Gold-standard surveys appear to be the LeBron Jameses of the polling world: They make everyone around them better. That's how it's supposed to work in basketball but not in polling, and this is a major problem for anyone watching 2014's races. There hasn't been a gold-standard poll released to the public at all for Alaska's Senate race, in three months for Arkansas's Senate race, in three months for Kentucky's Senate race, ever in Louisiana's likely Senate runoff, and in nearly four months for North Carolina's Senate race. The only polls we can consider in these races were conducted by pollsters who have historically fared considerably worse as a group when the gold-standard pollsters weren't around….to be clear, we shouldn't avoid discussing 2014 races that don't have gold-standard polling data; nontraditional polls still have some predictive value. But we should acknowledge that the forecasting ability of these polls in these races is considerably worse on average." [538]
An argument for excluding some polls? - Mike Mokrzycki: "My question: If 'nontraditional' polls perform worse than 'gold-standard' polls, in cases where there are 'gold-standard' polls, what good comes from throwing 'nontraditional' estimates into the average? Doesn't that just diminish the accuracy of the forecast? (That said, I wholeheartedly agree with Harry's broader point that we face a dangerous shortage of higher quality polls, so that where there only are 'nontraditional' polls the question becomes whether those are better than no polls at all.)...To put it coarsely: Garbage in, less accurate aggregate forecast out. Before my inbox erupts in epic conflagration, I'd hasten to add: No, 'nontraditional' does not automatically = 'garbage.' In fact some nontraditional pollsters laudably put a great deal of thought and effort into their work, adhering to many 'best practices' though straying from one or more 'traditional' approaches...Ideally poll aggregators give us tools to be able to make our own filtering decisions." [Storify]
IS THE ENTHUSIASM GAP OVERRATED? - Republican and former Mitt Romney pollster Neil Newhouse: "Recent polls have shown the GOP to have a significant edge in enthusiasm regarding the upcoming mid-term elections. Nearly without exception, Republicans are more excited, enthusiastic and energized about voting in the November election than their Democratic counterparts. The straight-forward conclusion is that this enthusiasm gap will play out at the voting booths in November, resulting in widespread GOP gains, led by a takeover of the U.S. Senate. But, what if the enthusiasm gap is meaningless? Two years ago, the same polls that now show the GOP with a marginal advantage on this measure, showed much of the same thing – that GOP voters were significantly more excited about voting in the November Presidential election. And, what happened? The enthusiasm gap was taken to the woodshed by the Obama team's GOTV efforts." [POS]
-Chris Cillizza argues the enthusiasm gap matters much more in midterm elections than in presidential ones. [WashPost]
MOST AMERICANS DON'T THINK BLIND PEOPLE SHOULD CARRY GUNS IN PUBLIC - Emily Swanson: "Earlier this week, a commentator for NRA News raised eyebrows with a video making the case for letting the blind legally carry guns in public. Most Americans don't agree, a new HuffPost/YouGov poll shows. In fact, only 23 percent of Americans said it should be legal for the blind to own guns at all, while 51 percent said it should be illegal. Democrats (62 percent to 12 percent) and independents (50 percent to 25 percent) were more likely to oppose allowing the blind to own guns. Republicans were fairly evenly split on the issue, with 33 percent in favor, 34 percent opposed and 33 percent not sure. Even fewer Americans said the blind should be able to obtain permits to carry guns in public. Only 16 percent said they support open-carry permits for the blind, while 66 percent said they were opposed. Seventy-seven percent of Democrats, 63 percent of independents and 55 percent of Republicans said they were against allowing the blind to carry guns outside the home." [HuffPost]
R.I.P. DOTTY LYNCH - Alexander Burns: "Washington's media community reacted with an outpouring of sadness Monday at the death of Dotty Lynch, the longtime political analyst and pollster who spent 20 years as the political editor of CBS News. Lynch was an early leader among women in the polling industry at a time when survey research — like most sectors of political consulting — was dominated overwhelmingly by men. An adviser to presidential candidates including George McGovern, Jimmy Carter and Gary Hart, Lynch spent several years as polling chief for the Democratic National Committee before joining CBS in 1985. She battled aggressive melanoma in recent weeks before passing away at the age of 67. Lynch 'lived and breathed American politics,' CBS 'Face the Nation' anchor Bob Schieffer wrote in an email. 'She knew all the players and more important, they knew her. It was a great loss to CBS professionals when she left the organization and her death is a great loss to all of us who knew and loved her as a friend.'" [Politico]
-Anna Greenberg (D): "RIP Dotty Lynch. Polling pioneer and great champion of women coming up in the profession." [@Anna_Greenberg]
-David Winston (R): "Sad day @DottyLynch passed away-a wonderful person whose remarkable political analysis was always fascinating to hear-will be sorely missed!" [@dhwinston]
-Mark Mellman (D): "Dotty Lynch--a pioneer, a mentor to me & others, a consummate professional & a dear friend. I will miss her deeply, as will many others." [@MarkMellman]
-Evans Witt: "Stunned to hear of Dotty Lynch's passing. She always provided wit and wisdom to the coverage of the nation's politics." [@EvansWitt]
-Gina Glantz (D): "So sad. RIP Dotty Lynch, friend, teacher, political pioneer/star, an original #genderavenger" [@glantzings]
-Domenico Montanaro: "I am so saddened to hear about the death of former CBS political director Dotty Lynch. She was always so kind to me, patient, and a mentor" [@DomenicoPBS]
-Gwen Ifill: "RIP Dotty Lynch, as smart as she was good as she was generous to all of us in and around politics. #wayfarertoast" [@gwenifill]
-John Harwood: "RIP Dotty Lynch. Thanks for the kindness, intelligence and insight you brought to your work covering politics, and to your friendships... political journalism - and politics itself for that matter - would be a lot better if there were more people like Dotty Lynch" [@JohnJHarwood here] and here]"
HUFFPOLLSTER VIA EMAIL! - You can receive this daily update every weekday via email! Just click here, enter your email address, and and click "sign up." That's all there is to it (and you can unsubscribe anytime).
MONDAY'S 'OUTLIERS' - Links to the best of news at the intersection of polling, politics and political data:
-New York Gov. Andrew Cuomo (D) continues to lead challenger Rob Astorino (R) by a wide margin in race for re-election. [Siena]
-Gallup finds almost half of LGBT Americans classify themselves not religious. [Gallup]
-Democrats and independents are far more likely than Republicans to think the economy is improving. [YouGov]
-Lonna Atkeson gives her two cents on how to improve survey methodology. [Oxford University Press]
-Melissa Michelson summarizes her research on increasing Latino voter turnout. [Latino Decisions]
-Lynn Vavreck analyzes the possibility of increased Latino support for the Republican Party. [NY Times]
-Charles Franklin discusses the political divide in Wisconsin on "Meet The Press." [NBC].
-Jonathan Chait takes aim at a Reason Foundation poll on millennials' views of government; Reason pollster Emily Ekins responds. [New York magazine, Reason]
-Nate Silver finds a monument to an example of "correlation ≠ causation." [@NateSilver538]
-John Sides outlines the poli sci research on balding politicians. [WashPost]