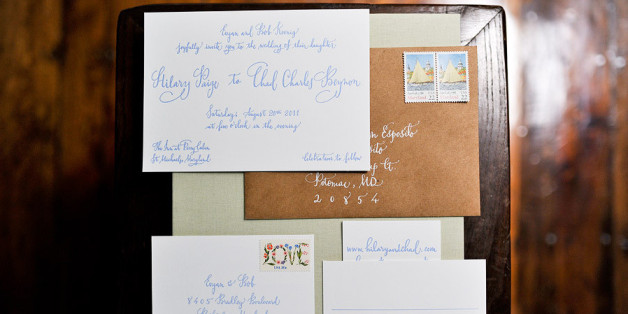 The rules of wedding etiquette are constantly changing, making it difficult for modern brides, grooms and guests to find up-to-date and correct information. That's why we launched #MannersMondays, a weekly series in which we ask our followers on Twitter and Facebook to submit their most burning etiquette-related questions. Then, with the help of our team of etiquette experts, we get you the right answers to your biggest Big Day dilemmas. Check out this week's question below!
@HuffPostWedding Do invites have to be addressed in handwritten calligraphy, or is printed calligraphy ok?

— Sarah Hinde (@sarahhinde) November 21, 2013
Anna Post -- great-great-granddaughter of etiquette guru Emily Post and author of Emily Post's Wedding Etiquette -- is here to help us answer this week's question. Find out what she had to say below:
No, there is no need to hire a calligrapher to address your wedding invitations, nor does calligraphy need to be used. Printed (as in non-cursive) or otherwise embellished handwriting is fine. The idea, though, is that the addresses are handwritten, as it is much more personal for such a special invitation.

I did decide to hire a calligrapher -- Holland Wilson, whose exquisite work I found on Pinterest -- and was thrilled with the results. I love all things paper and hand-lettered, and my own attempts to produce an elegant script sadly fell far short of the calligraphy I admire. I knew this was probably the only event in my life where I could justify the expense, so I went for it.

Budget, interest, and time constraints can all be arguments against professional calligraphy. You should plan on one to two weeks in your invitation schedule if you are going to hand-address your envelopes. Keep in mind that envelopes can sometimes be ordered (with the return address printed on the back flap) to arrive in advance of the invitations, allowing you time to write out addresses while the rest of your order is completed. Whether you hire a calligrapher or go the DIY route, plan to check over the finished pile against your list of addresses and order at least 10 to 20 extra envelopes in case of mistakes.

If you do decide to print from a computer, use a font that's more scripted (as opposed to Times New Roman or Arial -- this isn't a business letter) and print directly onto the envelopes rather than onto labels. The world certainly won't end if you print out your wedding invitation envelopes, but if at all possible, this is the one time to sit down with a pen.
You can submit your wedding etiquette questions via Facebook or tweet them to us @HuffPostWedding with the hashtag #MannersMondays.
Follow HuffPost Wedding's board Save The Date! on Pinterest.