For decades, a tiny hamlet southeast of Paris lay largely unnoticed. Its name? La Mort aux Juifs or, in English, "Death to Jews."
Now, amid a slew of anti-Semitic attacks in France, a Jewish human rights organization is urging officials to rename the settlement. In a letter to French Interior Minister Bernard Cazeneuve, the Los Angeles-based Simon Wiesenthal Center called for "the earliest removal of this genocidal name and its replacement with an identity rather more welcoming to all."
"The current surge in public and violent expressions of anti-semitism makes us uneasy regarding the motives of those seeking to reside at such an address," the center said in a statement, explaining why it is requesting a change to the long-standing name.
The small village reportedly includes a farm and two houses.
(Story continues below.)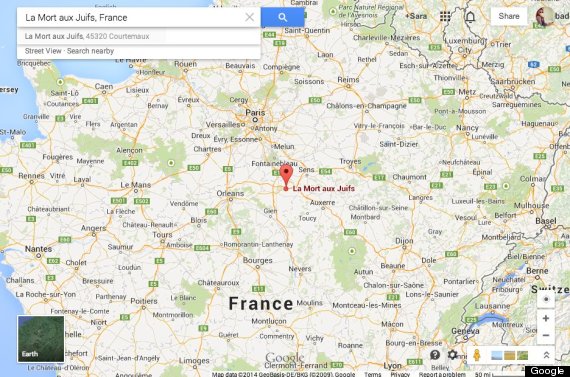 However, the deputy mayor of a nearby municipality, which has control over the hamlet, holds that the name has withstood the test of time and should not be changed now.
"It's ridiculous. This name has always existed," Courtemaux Deputy Mayor Marie-Elizabeth Secretand told the Agence France-Presse.
"No one has anything against the Jews, of course," she continued, adding: "It doesn't surprise me that this is coming up again."
The call for "Death to Jews" to be renamed comes just months after a Spanish town voted to drop "Kill Jews" from its name. The tiny village, originally called Castrillo Matajudios, had held the name for nearly four centuries.