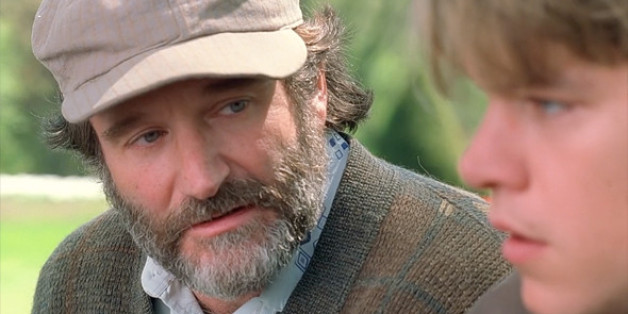 After news spread that Robin Williams died at age 63 on Monday, Aug. 11, mourners honored his Oscar-winning role in "Good Will Hunting" with a tribute at the Boston Public Gardens. Nick Rabchenuk, 29, walked to the iconic bench featured in "Good Will Hunting" with his girlfriend, some chalk and flowers. He wrote quotes from the movie and traced his feet on the ground.
"After we found out that he died, we sat around in disbelief for a while," he told HuffPost Entertainment. "We wanted to do something that people would be able to pick up on." When Rabchenuk and his girlfriend got to the bench, two other fans were there. "We sat around and talked for a little, just wanting to be part of this little moment," he said. "We wrote a couple notes, the quote, and left the flowers." Soon, other fans in Boston had the same idea and added more quotes and personal messages to the area near the bench.
Memorial at good will hunting bench. #RobinWilliams #RobinWilliamsWillLiveOnForever pic.twitter.com/A3usLd3xb4

— nicholas rabchenuk (@rabbitnutz) August 12, 2014
I left this one. Carpe diem. pic.twitter.com/9JM4VY8Cs6

— Jason (@coolmcjazz) August 12, 2014
bench in the public garden where robin williams set with matt damon in scene from "good will hunting.." #wbz pic.twitter.com/e49gIX9hn8

— Carl Stevens (@carlwbz) August 12, 2014
Rabchenuk grew up in Lowell, Massachusetts, about an hour outside of Boston. "Coming from a blue-collar city and family, the movie has always resonated with me as something I can relate to and remind me of home. But that scene in particular is one of the best scenes of dialogue in a long time. He lays everything out on the line. It's so universal."
Minnie Driver, who co-starred in "Good Will Hunting," recalled a memorable off-screen moment to The Hollywood Reporter. The cast sat around eating sandwiches during a break filming the bench scene, she said. Williams began to joke about "something or other" and Boston locals took note, turning lunch into "impromptu stand-up." "There must have been 200 people listening and laughing by the time lunch was over," Driver told THR.
The scene, which is arguably the most famous from the 1997 film, finds Williams talking to Matt Damon's character about love. Now, it's a sought-after tourist attraction in the middle of Boston's park, and is one of 17 stops on the park's audio tour. "It's touched so many people and it's only fitting that people go there," Executive Director of Friends Of The Public Garden Elizabeth Vizza told HuffPost. "It's a place where people feel a connection to him." Watch the moment below.
This post has been updated to add comments from Friends of the Public Garden.
BEFORE YOU GO
PHOTO GALLERY
Robin Williams Quotes