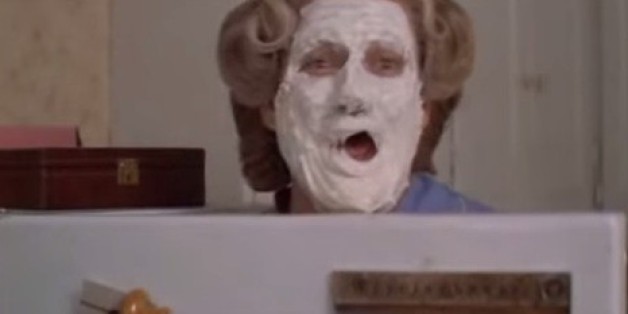 Since the tragic news of Robin Williams' suicide broke, fans have shown an outpouring of support by sharing their favorite memories, films, quotes and stand-up bits.
But advocates have been careful to also open up a dialogue about depression -- which the comedian had talked candidly about -- and ways in which people who are facing mental illness can seek help.
To help make the taboo topic more accessible, a group launched the "Doubtfire Face for Suicide Prevention" initiative.
The group is inviting advocates to recreate a sidesplitting scene from "Mrs. Doubtfire." It's the moment when Robin Williams' character -- who plays a man dressing up as a female nanny -- is at risk of being discovered. To protect his identity, he quickly slams his face into a cake so it appears as though the nanny is just wearing a cleansing mask.
"She" then belts out a signature "Hello!"
The premise is to encourage supporters to welcome suicide prevention.
Once participants upload a video (using shaving cream, whipped cream -- really anything) they are then tasked with nominating someone else to get involved, using the hashtags #DoubtfireFace #SayHelloToSuicidePrevention and #RobinWilliams.
The goal is to raise awareness for the little-talked about figures.
In the United States, a person dies by suicide every 13.7 minutes and it claims more than 38,000 lives each year, according to the American Foundation for Suicide Prevention (AFSP).
It also hopes to raise $500,000 for the organization.
"We have to do more to prevent such tragic deaths through greater awareness of mental health issues, warning signs, effective interventions and treatment," AFSP said in a statement following Williams' death. "Suicide is preventable and we all have a role to play to end the tragedy of suicide."
Learn more about the American Foundation for Suicide Prevention and how you can donate to the "Doubtfire Face" initiative here.
Need help? In the U.S., call 1-800-273-8255 for the National Suicide Prevention Lifeline.

BEFORE YOU GO
PHOTO GALLERY
Robin Williams Quotes