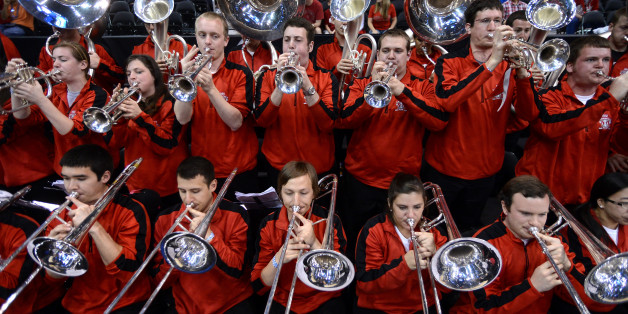 A group of Ohio State University marching band members, whose supposedly offensive nicknames were included as part of an internal report on alleged hazing within the organization, said this week that they were never interviewed as part of the investigation that produced the report.
Each of the five women -- Alexandra Clark ("Joobs"), Jeanette Town ("Tiggles"), Victoria Nolte ("Tulsa") and Lindsay Barrie ("ERV") -- claimed in an Aug. 12 letter to OSU President Michael Drake, obtained by The Huffington Post, that the person leading OSU's investigation, Chris Glaros, never interviewed them. They said they only learned that their nicknames were being used as evidence of hazing after the report had been released to the public. The report described their monickers as "salacious" and "offensive." Jocelyn Smallwood ("Donk"), also signing the letter, said her positive testimony was left out of the final report.
"You should also know that we have made public statements indicating that our nicknames are completely inoffensive to us, were in fun, and we embraced them in that spirit," the women wrote. "Mr. Glaros would have known that had he bothered to ask about our feelings before including our names in his unwarranted and, yes, offensive report."
The women, all of whom are recent alumnae, were not available for further comment. Glaros declined an interview request, referring questions to OSU spokesman Gary Lewis Jr., who did not respond to a request for comment.
The women charge in the letter that the report portrays them as victims, and they argue it makes Drake a victim as well, by presenting an inaccurate account of events early in his presidency.
"You were entitled to expect a competent, truthful report on which you could rely without question," they wrote. "Unfortunately, it has been made abundantly clear that you received quite the opposite."
The letter asserts that since the women began speaking out publicly, no one from OSU has contacted them to discuss their concerns. The group has demanded a meeting with administrators and trustees no later than Aug. 22.
The report resulted in Jonathan Waters being fired as marching band director. The university continues to stand by the report.