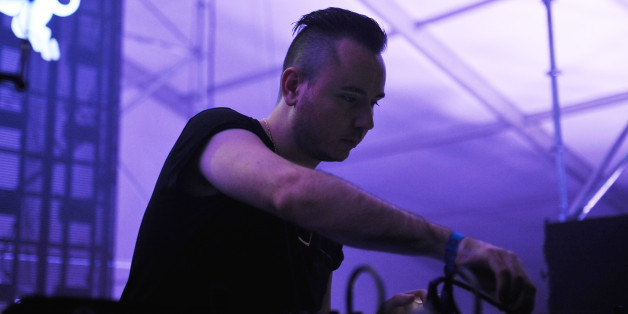 A few hours after his first appearance at Lollapalooza, Duke Dumont retreated in his dressing room. Surrounded by bottles of water, some fruit, a few bags of chips and the cool breeze from a nearby air conditioner, the British DJ/ producer was just happy to sit down. He'd only been in America for a few hours and had already played a monster mid-day set at the festival's EDM tent. Soon, he'd leave Chicago's Grant Park to warm up for his next show, a Lolla afterparty with Flume and Anna Lunoe.
"Being here is certainly getting a lot easier than when I first DJ'd in the U.S. about seven years ago," Dumont said. "That was just tough." Though he was already known as a "producer's producer" in the British electronic scene, Dumont started playing small dive bars in New York's Alphabet City, where his crowds were more into hip-hop than his house sound. ("It was a very virgin audience," he recalled.) But with just a few weeks until his single, "Won't Look Back," comes out in the UK, he's on a mission to makes American fans fall in love. "House music isn't really overly popular in the U.S. at the moment. I think of myself as kind of flying our little flags."
After two No. 1 hits on the UK Singles Charts and a long and steady career producing hits and remixes for the likes of Lily Allen, Haim and Santigold, Duke Dumont's name is no longer met with a question mark here in the States. He's house music's answer to mainstream crossover hits.
"Need U (100%)" made 2013 Dumont's year. The collaboration with MNEK and A*M*E went straight to No. 1 in Britain and was nominated for a Grammy. "It was the first No. 1 house track in, I don't know, about 15 years," Dumont said. "There was a history of house tracks getting to No. 1 in the UK in the '90s, which paved the way for me." But he claims it wouldn't have gone to the top with big audiences had it not been for Disclosure's previous success. "'White Noise' was in the top 10, and what Disclosure did was very different than what was going on before on a mainstream level. They changed the mainstream consciousness a little bit."
The success of another single, "I Got U," released earlier this year, launched Dumont onto the front stage of American electronic dance music. With beach vibes and stunning female vocals, it hit No. 1 on the U.S. dance charts with ease. After making the rounds at Coachella, Osheaga and Lolla, Dumont has cemented his role as a performer, not just a behind-the-scenes wiz, and he knows the power electronic music can have at a massive festival where the main goal is simple: have fun.
"Our job is to entertain," he said. "I think there's is a little bit of a divide between the rock bands and the DJs. A DJ will turn up and the songs will be loud, mastered, compressed. A lot of rock bands will play live, so sonically they might not be as powerful as a DJ set. Festivals are quite tough for rock bands to compete with DJs now, just because the music is a lot more energetic."
His success is on par with electronic music's growing influence, in which acts like Coldplay and Ariana Grande enlist Avicii and Zedd for hits. "There was a chain reaction going on in the UK and I kind of get a sense right now that it's happening a little bit in the U.S.," he said. "I'll be here a lot more in the next few months."
"Won't Look Back" comes out in the U.K. on Aug. 24 via Blasé Boys Club, and will be released in the U.S. via Astralwerks at a later date.
BEFORE YOU GO
PHOTO GALLERY
Celebrity News & Photos