A New Jersey man flying a flag that resembles one often associated with the al-Qaeda offshoot Islamic State unfurled a wave of controversy when a photo made the rounds on social media.
Twitter users fretted over the banner's similarity to the one used in Iraq by the jihadist rebel militants formerly known as ISIS, raising fears about the flag's owner, Mark Dunaway. The stir prompted local police to pay Dunaway a visit, after which he voluntarily took the flag down and replaced it with a San Diego Chargers football team flag, NJ.com reported.
Dunaway told news outlets he has hung the flag in front of his home for years during Ramadan and on Fridays before he goes to mosque.
"This is just me expressing that I am a Muslim, that's it," he told CBS in the segment above.
In the interview with NJ.com, Dunaway said he is not affiliated with any jihadist group and that he loves his country.
The Council on American-Islamic Relations suggested that Dunaway could have been spared attention. The Arabic words on the flag, essentially translated as "There is no God but God; Muhammad is the messenger of God," is a "standard declaration of faith that anyone recites to become a Muslim," CAIR spokesman Ibrahim Hooper told The Huffington Post.
"I think this is just another one of the manufactured Internet controversies put forward by the cottage industry of Muslim bashers that we see on hate sites," he said, adding that his comments were not a defense of ISIS, which CAIR has condemned as "un-Islamic and morally repugnant."​
The concern over the flag reportedly arose Aug. 12 when a photo of it was posted on Twitter, prompting strong reaction.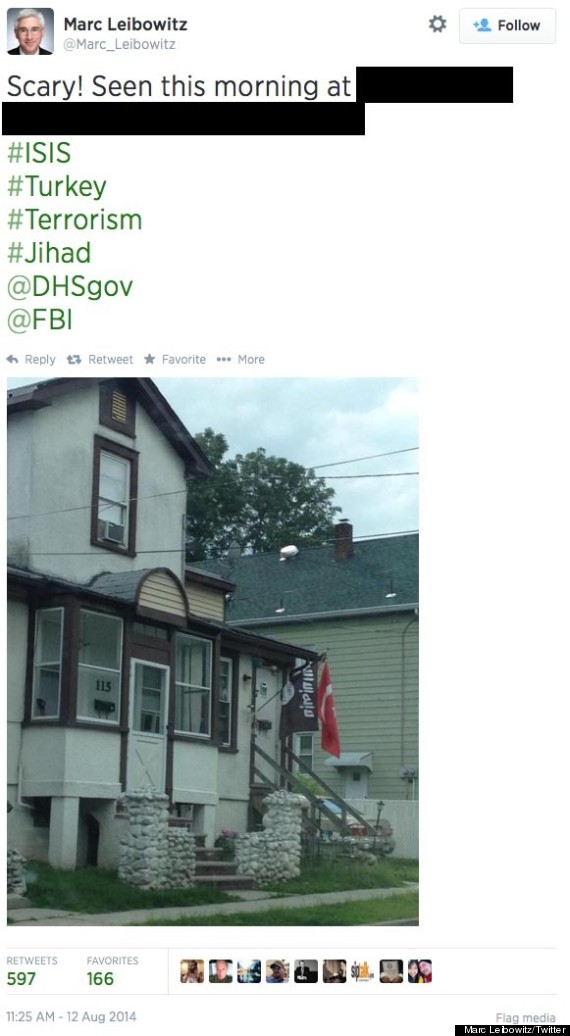 But Hooper says the poster could have exercised restraint. "It just seems that this is something could have been addressed with the individual before taking it to the entire universe through Twitter," he told HuffPost.
NJ.com later reported that the poster, Marc Leibowitz, who also alerted Homeland Security, expressed remorse for invading Dunaway's privacy if the flag was just a gesture of Dunaway's faith.