May Stevens always believed that art and activism went hand in hand.
From a young age, growing up in Quincy, Massachusetts, Stevens was exposed to the dearth of opportunities presented to the women around her, no matter how ambitious or talented they were. She went on to challenge this reality through her artwork, becoming a founding member of "Heresies, A Feminist Publication on Art and Politics" in 1976.
Although Stevens is often referenced for her role in the first generation of female activist artists, she was a major artistic force in the burgeoning Civil Rights movement as well. Stevens critiqued patriarchal power, unnecessary violence and the nation's racism in her fearless depictions, her artwork finding itself alongside the most crucial moments in American history.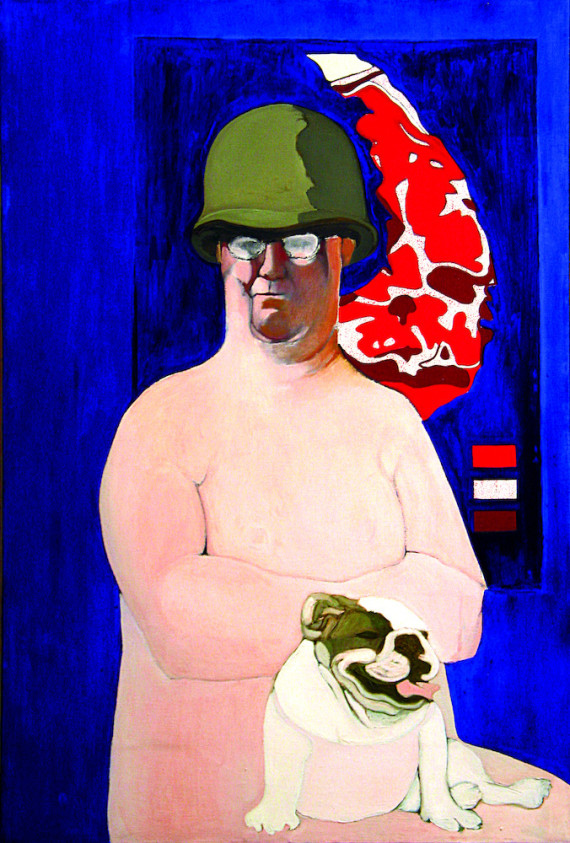 May Stevens, "Big Daddy in Vietnam," 1968, oil on canvas. Courtesy of RYAN LEE, New York.
This lesser-known phase in Stevens' artistic career is the focus of "May Stevens: Fight the Power," an exhibition currently running at Ryan Lee Gallery in New York. The show features Stevens' "Big Daddy" series, which, made from 1967–1976, presents a pop art stab at the Vietnam War, rendered in eye-catching red, white and blue.
As the Brooklyn Museum explains, Big Daddy "takes on aspects of both the personal and the political." His bald head and stature are based on a portrait of Stevens' patriotic -- and allegedly racist -- father. His image also bears a striking resemblance to Theodore Roosevelt. In her darkly funny depictions, Stevens renders Big Daddy with a bullet-shaped head and phallic-shaped body, emphasizing images of violence and patriarchy.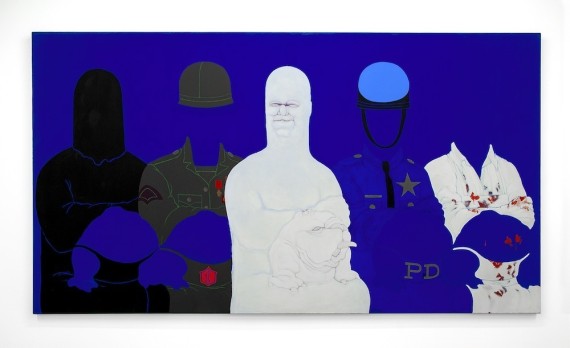 May Stevens, "Big Daddy Paper Doll," 1968, acrylic on canvas. Courtesy of RYAN LEE, New York.
In "Big Daddy Paper Doll," Stevens transforms her father into a paper doll, stripping him of his clothing and authority, turning him into more than a defenseless plaything. Crafting potential costumes including executioner, decorated soldier, policeman, or butcher, Stevens turns macho and often deadly masculine roles into the equivalent of dress-up ensembles, frivolous and ephemeral.
The exhibition also features "Malcolm X," a death portrait of the famous activist, drawn from memory three years after she attended his funeral. The notorious advocate is rendered softly in ink on paper, his face resting tranquilly on the blank page. The image, which Ryan Lee Gallery describes as "intimate" and "abstracted," is far from the usual projection of the human rights leader, donning his signature glasses and engaged in action.
As demonstrated so clearly with Big Daddy's resemblance to Teddy Roosevelt, Stevens' work proves that the personal and the political are never too far apart. Her flattened canvases conjure images simultaneously enraging and comical, inciting action while maintaining a bright sense of humor. Stevens, who was the first living female artist to have a retrospective at the Museum of Fine Arts, Boston in 1999, turns 90 years old on June 9. Her artistic contributions to the Feminist and Civil Rights movements will go down in history... in piercing patriotic colors and flattened phallic figures.

"May Stevens: Fight the Power" will run until August 22, 2014 at Ryan Lee Gallery in New York.