The trek to the summit of Mount Everest is spectacular and otherworldly; it is, however, also incredibly dangerous.
Other than altitude- and weather-related risks, the icy terrain itself is unforgiving. The conditions are so harsh, in fact, about 250 people have died trying to get to the peak of the highest mountain on the planet. (In 2012, The Week reported that "for every 10 successful ascents," one climber dies.)
To show viewers at home just how hazardous the journey is, Discovery Channel has created a stunning 3D simulation of the trek to Everest's summit -- complete with sound effects that mimic the bluster of blowing wind.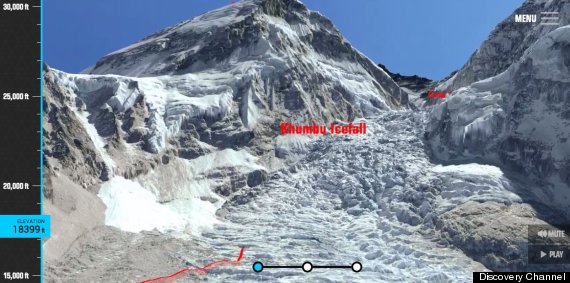 The trek begins at about 17,500 feet at the Everest Base Camp. From there, you pass the treacherous Khumbu Icefall, described by the Associated Press as a "a river of ice, a [half mile] or so of constantly shifting glacier punctuated by deep crevasses and overhanging immensities of ice that can be as large as 10-story buildings."
The Icefall can move 6 feet in a single day, the AP says, and "crevasses can open -- or close -- without warning. Ropes can be snapped by the moving ice, ladders broken, bodies crushed."
The 3D trek, which ends with a 360-degree view at Everest's peak (pictured below), can be found on the website for Discovery's "Everest Avalanche Tragedy", a documentary about the 16 sherpas who were killed by an avalanche at the Khumbu Icefall in April. The documentary first aired in May.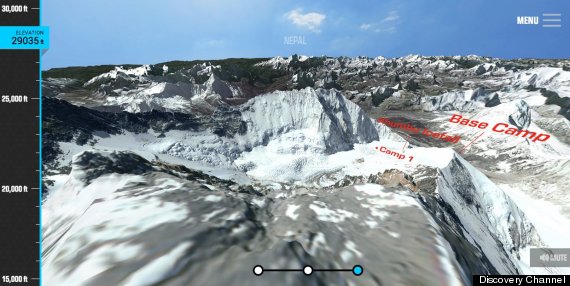 Following the Everest tragedy, Adrian Ballinger, a mountaineering guide who has climbed Everest multiple times, told the AP that the risks posed by Khumbu are something that climbers "always" fear.
"This [disaster] didn't surprise those of us who spend a lot of time on Everest. We've been living on borrowed time," he said.
Click here to explore the stunning and perilous journey to Mount Everest's celebrated peak with Discovery's 3D trek to the summit.
BEFORE YOU GO
PHOTO GALLERY
Mount Everest