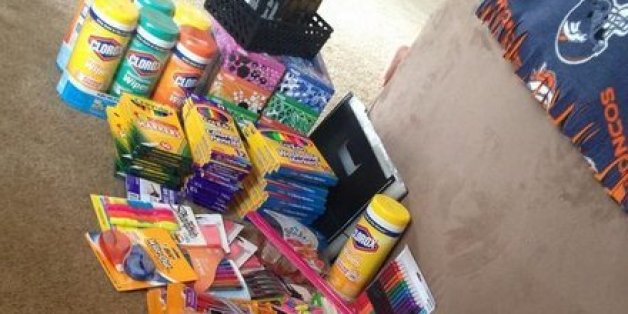 Back-to-school time doesn't only mean big spending for students and parents, often, educators have to shell out money from their own paychecks to supply classrooms.
According to a survey from the National School Supply and Equipment Association (now the Education Market Association), teachers spent an average of nearly $500 out of pocket on back-to-school shopping last year.
While districts sometimes help cover some costs of back-to-school spending for teachers, and different levels of governments sometimes reimburse these costs, it often doesn't go far enough. As Vox.com recently pointed out, state education spending has remained flat in recent years, even as inflation has continued to increase the cost of school supplies. According to the National Center for Education Statistics, teachers made an average salary of $56,383, last year -- so $500 isn't always an easy lift.
"I only have $100 from the school for the whole year to buy supplies, and it's not enough," 23-year-old teacher Hannah Martin told NBC last year, adding that she babysits to buy toys and books for her classroom. "I even had to buy shelves and a stool for the kids to stand on to wash their hands at the sink. I spent about $500 on supplies last year, and it definitely hurts my own pocketbook."
A gift exchange held by Reddit this month shows teachers' need for classroom supplies. By Thursday morning, over 10,000 educators had signed up for the gift exchange which allows donors to give materials to teachers in need.
On Twitter and Facebook, we asked educators to send us pictures of supplies they were buying with their own personal money. These are some of the submissions we received:
@HuffPostEdu scared to add it up (approx $1000/ yr) on supplies, art, pe equip, furniture, books #mymoneymyclass pic.twitter.com/7LqAJfYJ9A

— Kat Ling (@sapphkat) August 13, 2014
@HuffPostEdu my mom spends easily $200-$300 a year on art & teaching supplies for her second graders. #mymoneymyclass pic.twitter.com/FEzNaJWTSn

— Legally W(h)ining (@WineAboutLaw) August 13, 2014
@HuffPostEdu Started today with notebooks $9.56 but will end up around $50 by the time school starts #mymoneymyclass pic.twitter.com/CFOUtedly1

— BrainWindows (@brainwindows) August 13, 2014
@HuffPostEdu Lucky & grateful to get some district money but here's about $200 of my own. Worth it! #mymoneymyclass pic.twitter.com/o2RkQGvMyy

— Lynnea Hunter (@LynneaHunter) August 13, 2014
@HuffPostEdu 250$...and all worth it =) #mymoneymyclass pic.twitter.com/hhoU4JgiL1

— Monica Lucero (@mmmlucero) August 13, 2014
@HuffPostEdu #mymoneymyclass $250 great deals @Target pic.twitter.com/NNBNTamhVP

— TeacherProblems (@Blond_Teacher) August 12, 2014
Today's haul $20. One of many trips to supply the kids who have little. #mymoneymyclass pic.twitter.com/PY7ZYhP19B

— Kristin Lohrentz (@klohrentz) August 12, 2014
@HuffPostEdu even while watching Back to School specials & shopping selectively, here's $70 on basics #mymoneymyclass pic.twitter.com/rnalkMztuv

— Classroom Quips (@ClassroomQuips) August 12, 2014
@HuffPostEdu last year aprx $700 classroom needed overhaul - this year $300 (dog not included) #mymoneymyclass pic.twitter.com/EZtbTEy5Dq

— Kim Wilke (@kimwilke) August 12, 2014
@HuffPostEdu Bed bug problem. No lockers. I bought 36 containers for their coats & backpacks $300 #mymoneymyclass pic.twitter.com/qwOeZbA9q5

— Nancy Osborne (@NancyOsborne180) August 12, 2014
@HuffPostPhoto @HuffPostEdu $100 for 180 composition books at Target. High school teachers hurt #mymoneymyclass pic.twitter.com/HLrPa2LQKY

— bui (@buibuibuii) August 11, 2014
@HuffPostEdu just what I haven't put away yet. $315 and counting #mymoneymyclass pic.twitter.com/k4TwE7jKUe

— Ern (@eBeez2510) August 13, 2014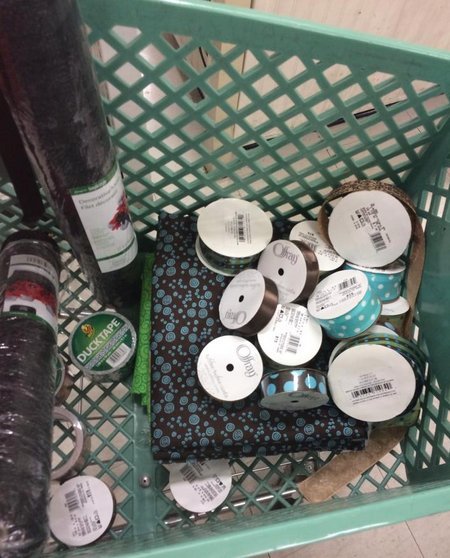 "This was for my bulletin board. I spend about $600 for set-up each year and $200 a month for paper and basic supplies." -- Facebook user, Angie Sullivan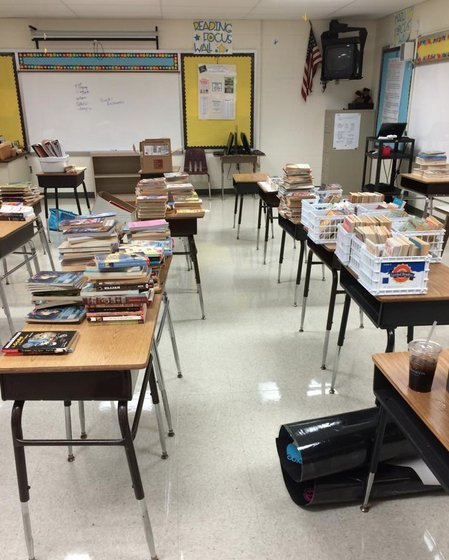 "I had to move grade levels this year and spent over $400 on a my library. I haven't even shopped for supplies yet." -- Facebook user, Tiffany Kaszmetskie