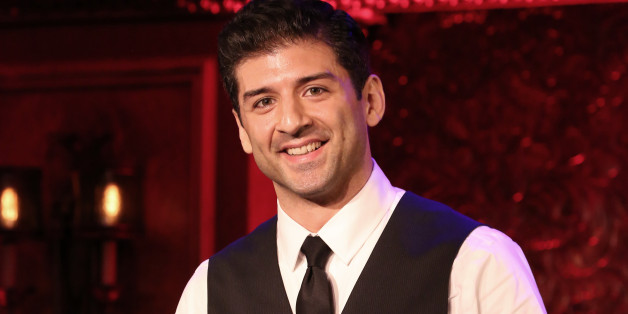 Thanks to stints in Broadway musicals like "A Chorus Line" and "Gypsy," Tony Yazbeck has established himself as a "stalwart New York song-and-dance man" who occasionally seems transported straight from the era of Fred Astaire.
Fancy footwork and vocal stylings are unquestionably the centerpieces of Yazbeck's new cabaret show, "The Floor Above Me," which debuted at New York's 54 Below on Aug. 11. Still, the performer hopes audiences come away from the act with a better understanding of his personal journey as a performer and the vulnerability that lies beneath his showman's veneer.
"As a kid, I always thought I was going to fall in love like Gene Kelly in 'An American in Paris,'" he told The Huffington Post in an interview. Still, he soon "realized that life isn't just a big, old MGM musical. Life hits you in the gut a bit harder and you've got to roll with that."
Check out a clip of Yazbeck performing at Joe's Pub earlier this year, then scroll down to keep reading:

True to form, Yazbeck explores his early obsession with the "golden age" of musical theater in "The Floor Above Me," but it's just one component in the multifaceted show, which features guest appearances by "So You Think You Can Dance" veteran Melinda Sullivan and actor Curtis Holbrook, who is currently appearing alongside Idina Menzel in "If/Then."
As part of Yazbeck's goal to incorporate classic Hollywood elements into a contemporary musical experience, the act takes an honest, intimate turn when the actor shares anecdotes about his parents' divorce and personal heartbreak, amidst a diverse set that includes tunes by Joni Mitchell and Jamie Cullum in addition to standards and Broadway classics. Tap numbers are prominent, and as in any old-fashioned musical, the evening concludes on an upbeat note.
Although he says "it's scary to have strangers watch your life unfold onstage," Yazbeck needn't fret too much, as the remainder of 2014 will be a particularly prolific time for the actor. Shortly after "The Floor Above Me" wraps, he'll begin rehearsals for the hotly anticipated Broadway revival of "On The Town," which opens Oct. 16 at the Lyric Theatre. Four days later, Yazbeck will tie the knot with girlfriend Katie Huff, a fellow performer with whom he co-starred in a Chicago production of "Singin' in the Rain."
The anticipation of his forthcoming nuptials seems to be reflected in "The Floor Above Me." When asked about the ultimate message of his act, Yazbeck can't help but let his old-fashioned romantic side shine through.
"My message would be to not overthink love too much; to be able to, and willing to, accept it for once in your life," he says. "Sometimes we just have to allow ourselves to be loved."
Tony Yazbeck's "The Floor Above Me" plays New York's 54 Below on Aug. 14 and 19. Head here for more information.
BEFORE YOU GO
PHOTO GALLERY
Tony Yazbeck at 54 Below