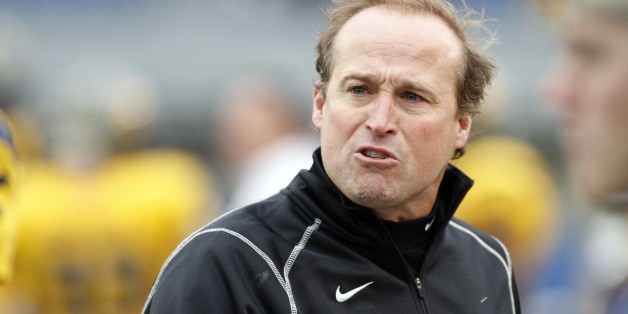 In a Monday press conference, the head football coach at West Virginia University said lying is a part of the recruiting process. But when the school released an official video and transcript of the event, that statement was nowhere to be found.
"I know you lie in recruiting a bunch, and that's just part of it," Dana Holgorsen said at the conference, according to Sports Illustrated. "What are we actually doing? What are we actually feeding these guys? Our job is to get guys on campus."
Deadspin noted Tuesday that the mention of lying was curiously missing from both the video and transcript that the school had posted on the West Virginia Mountaineers website.
Inside Higher Ed posted a screenshot of the scrubbed statement. Note the absence of the word "lie":

"West Virginia appears to be going for the memory hole strategy," Deadspin commented. "We'll see how it works out for them."
Inside Higher Ed contacted WVU spokesman John A. Bolt, who claimed that a "well-intentioned" graduate student had cut the comment from the video, and that another had cut the comment from the written transcript so that it matched the video. Bolt said both students understood that these cuts were "a mistake," and that the school would rectify the situation.
Inside Higher Ed noted Wednesday that WVU had restored the controversial statement, which can also be viewed on the Mountaineers site.
BEFORE YOU GO
PHOTO GALLERY
Highest Paid College Coaches