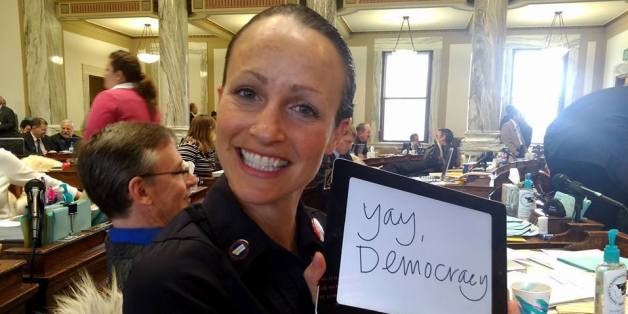 Amanda Curtis, a 34-year-old math teacher seeking Montana's Democratic nomination for U.S. Senate at a last-minute Saturday convention, suddenly is fielding calls from media outlets wondering how she feels about challenging Rep. Steve Daines (R-Mont.) with only 80 days left until the general election.
"If we're going to overcome this, it's going to come from a pure, true, grass-roots effort, and the fact that the base is reinvigorated," Curtis told The Huffington Post over the phone Friday. "People who have thought of themselves as non-participants are going to have to get involved."
"It's an opportunity to hit the reset button," she added.
Sen. John Walsh (D-Mont.) dropped his bid after The New York Times revealed that he plagiarized parts of a thesis paper for his master's degree. His departure led to a special state Democratic convention in Helena, Montana, to pick a replacement. Rancher Dirk Adams is also seeking the nomination, but momentum appears to be on Curtis' side.
Though Curtis thinks her race with Adams is "neck and neck," she's "optimistic that we're going to be able to move forward regardless of who gets the nomination." She got a boost with the backing of two of Montana's largest unions, the AFL-CIO and the MEA-MFT educators group.
"I'm honored and humbled to have an opportunity like this," Curtis continued. "It's been a fun process. I'm just excited."
Curtis gained notoriety for her daily video updates on the actions of the Montana state House, where she served for one term. The 87 videos she posted on YouTube and Facebook recapping that day's legislative action blended her unapologetically progressive views on issues such as workers' rights and public education with her teacher's proclivity to explain the bill-making, budget-writing process in the vernacular.
While Walsh was considered a bit of a dry campaigner when he was in the race, it will be hard for detractors to accuse Curtis of lacking grit: In one video from April 2013, she chastised legislators for voting against a bill that would have overturned the state's sodomy ban, telling HuffPost at the time that she had to restrain herself from walking across the floor and punching a Republican colleague.
Curtis also supports expanding background checks on firearms, including those purchased at gun shows, which she's already had to defend in the state's papers as something that she doesn't consider "a radical position."
When asked about the issues she'd focus on were she to win the nomination, Curtis cited campaign finance laws.
"I'm still learning a lot about the issues," she admitted. "But I want what's best for regular Montanans and not what's best for millionaires like Steve Daines and his friends. We can all agree that something needs to be done about money in politics."
Curtis, who proudly mentions her TEDx talk "on paying attention and getting involved" at a public library in Butte, Montana, has framed her candidacy as one that benefits from being unconventional.
Curtis might already be thinking about where she can get the kind of funding she'd need to mount a serious challenge to Daines. (Her Facebook page cover photo is from a training with EMILY's List, a group that supports female candidates who support abortion rights.) If she wins the Democratic nomination Saturday, she'll have un uphill battle to get national Democrats, preoccupied with tough races across the country, behind her.
BEFORE YOU GO
PHOTO GALLERY
Senate Seats Up For Grabs In 2014