Bjork fans, life has been kind to us as of late.
First there was Bjork's eighth full-length studio album, a cosmic masterpiece called "Biophilia" -- as the Jews say: Dayenu, or it would have been enough.
Then came an interactive app accompanying the album, in which a main "mother" app branched out into a network of mini-apps, one for each song, each incorporating elements of music, engineering, design, cinema and philosophy. It would have been enough.
Then Bjork went on tour and it was glorious. It would have been enough.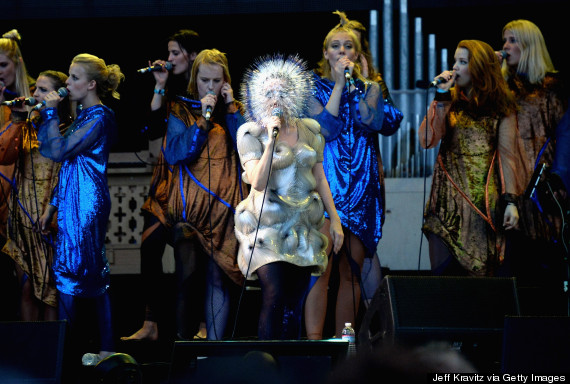 Then Bjork's "Biophilia" app was transformed into an experimental school curriculum designed to draw children into the depths of their imagination. It would have been enough.
Then MoMA announced a massive retrospective of Bjork's sounds, film, visuals, instruments, objects, costumes, and performances slated for this fall. It really would have been enough!
And now, Jacqui Edenbrow and Gloria Films are releasing a documentary chronicling Bjork's multi-sensory tour. The concert film, titled "Biophilia Live" and directed by Nick Fenton and Peter Strickland, was recorded live at Bjork's show at London's Alexandra Palace last year. The film will combine Bjork's live performance with animated sequences to enhance the tripped out Bjork experience.
The Creator's Project debuted the film's trailer above. It looks, not surprisingly, totally wonderful. The film will screen at select locations around the world beginning in September. See a complete list of screenings here.
May this chain of Bjork-related happenings go on forever. Amen.
BEFORE YOU GO
PHOTO GALLERY
Bjork's 'Biophilia' App