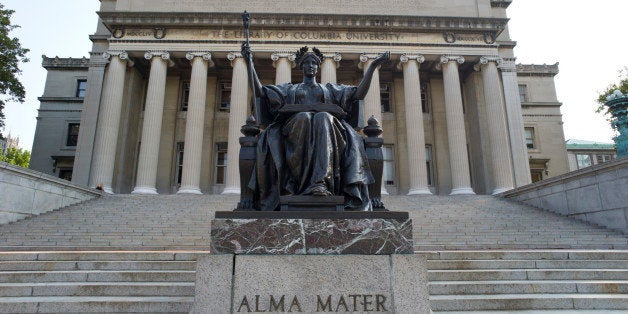 NEW YORK -- Columbia University unveiled a new sexual assault policy Friday, following months of criticism from rape survivors and student activists over how the Ivy League institution allegedly mishandles cases of sexual assault.
But a number of students central to forcing the issue to light at Columbia told The Huffington Post the new policy came after administrators avoided meeting with them over the summer. Several students said they were explicitly told the university would not unveil a new policy before classes started.
Early this week, a small collection of students was invited to a meeting with the university president's special adviser on sexual assault; at the meeting, they were informed a new policy would be unveiled this week. Students were not given copies of the policy and not provided an opportunity to give feedback, undergraduates who were present told HuffPost.
"Our goals underlying the new policy are principally these: to strengthen confidence in the University's handling of reports of sexual assault and other gender-based misconduct, to ensure fairness for all parties involved, and to provide more assistance to students in need," Columbia President Lee Bollinger said in an email to the student body. "The changes we've made also reflect recent guidance from the White House, the U.S. Department of Education, and federal legislation, as well as our own community's recommendations."
The policy largely gets the university in line with existing federal guidance and regulations about how schools must deal with campus sexual assault cases. It comes after a high-profile federal complaint was filed against Columbia by 23 students.
Students no longer will sit on hearing panels; rather, the panels will include three trained staff members from a pool of 12 student affairs administrators. The accuser and accused will be able to bring in an adviser of their choice, including a lawyer, to help them through the hearing process. Students found responsible for sexual misconduct who are allowed to stay on campus will have to complete an education program about sexual assault.
The university still will not allow previous allegations of sexual assault against an accused student to be considered in the adjudication process, unless the student was found responsible for the past incident or it is "similar to the present allegation."
Zoe Ridolfi-Starr, lead complainant against Columbia, said administrators in recent months canceled several meetings to discuss sexual assault policies with activists. Meanwhile, she and other sexual assault survivors and activists have met with U.S. Senate staffers multiple times, even appearing in public with Sen. Kirsten Gillibrand (D-N.Y.).
"It's been extremely frustrating," Ridolfi-Starr said. "I can't wrap my mind around what they could possibly be thinking. I can't imagine what they think is getting better by continuing to ignore us."
Columbia spokesman Robert Hornsby said the policy had to be in place before the start of the academic year so the university would be in compliance with new regulations under the Campus Sexual Violence Elimination Act, passed as part of the Violence Against Women Act in 2013. Many of the policy's provisions were developed, though, "as a direct response to student concerns expressed during the last academic year through a series of formal and informal meetings," Hornsby said.
"Still, as the policy's first page states, student comments and suggestions will be welcome throughout the school year," Hornsby said.
Bollinger also said the school will continue to discuss ways to improve the policy throughout the coming year. He noted the university made staffing changes as well, including creating six new positions in the Office of Sexual Violence Response, planning to open a second rape-crisis center on campus this month and expanding anti-violence education for all students.
Columbia law professor Suzanne B. Goldberg, who was appointed Bollinger's special adviser on sexual misconduct in July, noted many of the policy changes were developed based on concerns raised by students last academic year.
Goldberg didn't have information on what students might have been told before her appointment, but she said the new policy allows for further comments from students. She also said she felt it was important to have in place before classes start.
"Universities need or try to have new policies in place at the beginning of the academic year whenever possible," Goldberg said in an interview Friday.
But students felt blind-sided.
"We were explicitly told there would not be a policy review over the summer, even as we asked to be involved in conversations over the summer," said Sejal Singh, a rising senior who pressured the university to disclose information on how students found responsible for sexual assault were punished.
Bollinger said in January that the university would begin to release more information on assaults, bringing it in line with what Dartmouth College, Brown University and Yale University already disclose. But students are still waiting for that data.
The new policy was rolled out a few days after the university abruptly canceled a popular fall concert called Bacchanal, which was scheduled for September. The spring Bacchanal has been "placed under administrative review."
"Students were repeatedly told in meetings [that] sexual assault was [a] primary concern for the concert being canceled," said Caitlin Lowell, a member of the Coalition Against Sexual Violence.
But a group of undergraduate deans said in a statement that they "want to be clear that the decision not to move forward with this concert is not a response to the issue of gender-based misconduct and sexual assault on campus."
Deans Peter Awn, Mary Boyce, Avis Hinkson and Jim Valentini sent a campuswide letter suggesting it was a mix-up, and promised to reimburse the student organizations for the money they will lose as a result of the concert's cancellation. They emphasized the concert was "never officially scheduled or approved." They also admitted the 2014 spring concert had addressed concerns they noted in the past, but said they are still worried about a history of problems around "safety, crowd control and inappropriate behavior during the spring concert."
Since it's a big event, Lowell said, any sexual harassment that might occur could be noticed by more people. Canceling it suggests the concert itself leads to incidents of sexual assault, she said. Activists had hoped to use Bachannal to teach more students about bystander intervention, a method of recognizing and stopping sexual violence.
But the Bachannal cancellation was decided before any dean mentioned concerns about drinking, safety and sexual violence to the students involved in planning it.
"They are deliberately shutting students out," Singh declared. "To not notify us, to not include us. While my sincere hope is we are included in further revisions, I am skeptical that will happen if this pattern continues."