By Finn MacLeod
Read the original story on ArchDaily

Imagine yourself standing at a glowing threshold between reality and make believe, watching as mythical creatures dash across trees and into other dimensions. Imagine a world where the glimmer of fairies is reflected on a forest floor illuminated by trees of all colours; a world where a sea of stars transforms into an imaginary wolf, standing sentinel over its fairy tale universe. This enchanted world exists, thanks to the creatives at Moment Factory. In their Foresta Lumina video mapping project, they create a narrative installation set in the mysterious backwoods of Quebec, Canada. Find out how they add a little fantasy to ordinary reality after the break.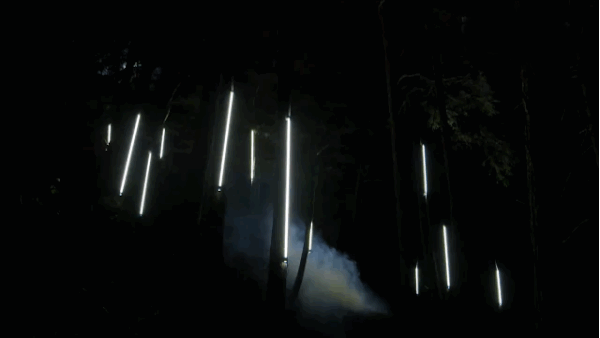 Upon entering the forest in Coaticook Canyon, a dimly lit pathway choreographs the viewer through seven different mesmerizing outdoor spaces, each evoking a different dreamlike scenario distinctly rooted in mythology. The installation utilizes video mapping, light and architectural installation to execute an unparalleled multimedia sensory experience. "It's always the combination between different fields of expertise – we can take a lighting designer with a graphic designer and an architect and create a symbiosis of work," said Moment Factory's Creative Director Gabriel Pontbriand. The Montreal-based group are pioneers of projection, with projects shown on the façade of the Sagrada Familia in Barcelona and in the Bradley International Terminal at LAX, among others. Foresta Lumina was designed as part of The Creators Project, a partnership between Intel and VICE that aims to celebrate the creative arts across all media.
BEFORE YOU GO
PHOTO GALLERY
Architecture Of The Future