Keep your shirt on for this one. No, really, keep your shirt ON.
If you're ever in a position to win a major race like Mahiedine Mekhissi-Benabbad was during the 3,000-meter steeplechase at the European Championships, leave the disrobing until after you've crossed the finish line.
The Frenchman, in command of the field Thursday in Zurich, took off his shirt with about 100 meters left in a bit of showboating. For good measure, he then put the shirt in his mouth and egged on the crowd to applaud him as he ran down the home straight, video from Yahoo! shows.
He eventually got disqualified after Spain filed a protest, outlets reported.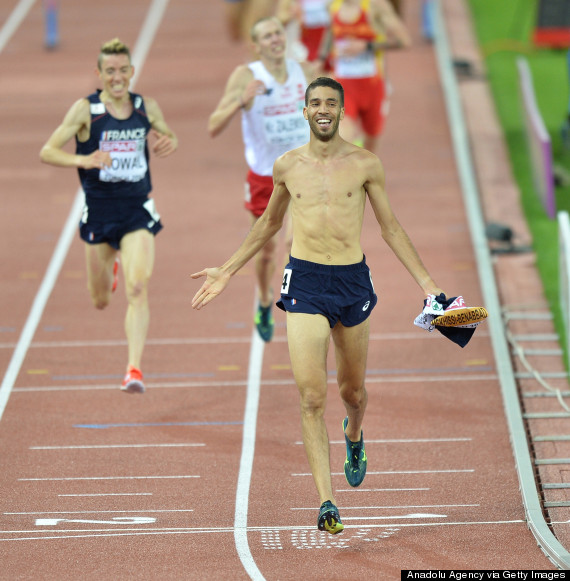 According to the Guardian, officials acted on Spain's complaint that the runner had violated rules on "clothing, shoes and bibs."
JURY OF APPEAL DECISION: Mahiedine Mekhissi-Benabbad is disqualified from 1st place in the men's 3000m steeplechase after Spain protest.

— Zurich 2014 (@Euro_Champs) August 14, 2014
Spain had something to gain from the decision: Its athlete, Angel Mullera, was elevated from fourth to the bronze medal. Mekhissi's teammate, Frenchman Yoann Kowal, got the gold, and Poland's Krystian Zalewski got silver.
If it's any consolation, Mekhissi-Benabbad has won the same event twice before and has two Olympic silver medals.
Next time, dude, keep the torso-baring for a more appropriate moment.