Welcome to the Internet, where nothing is sacred. After Jimmy Fallon, the Roots, Steve Higgins, Rob Riggle and Horatio Sanz accepted the Ice Bucket Challenge, some viewers went through the video and accused Questlove of not really participating. Was his bucket empty? Did he just ceremoniously lift a bucket over his head? Let the "wetroversy" begin.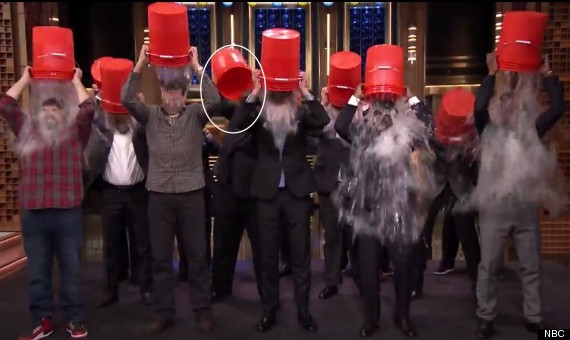 Hey @questlove, did I just see you toss your ice bucket on @jimmyfallon instead?? #ALSIceBucketChallenge pic.twitter.com/BMbGzLvn00

— Elizabeth Ashley (@beth_ashley4) August 14, 2014
There's much controversy over whether @questlove actually poured the Ice Water on his head. He and (cont) http://t.co/6ixy0jix2z

— Horatio Sanz (@MrHoratioSanz) August 13, 2014
@FallonTonight I think @questlove just cheated - didn't his ice bucket end up on @jimmyfallon #FallonTonight #ALSIceBucketChallenge

— Katherine W (@katherinew5) August 13, 2014
— Questlove Gomez (@questlove) August 13, 2014
We asked Questlove to respond to the accusations. "The bucket was totally full," he told HuffPost Entertainment over direct message from his Twitter account. "Majority of the water went down my face/neck chest ... I don't play that with my hair tho ... lol. Wow they analyzing this madden slo mo cam football style?"
There you have it. Wetroversy over?
BEFORE YOU GO
PHOTO GALLERY
Jimmy Fallon!