 Walmart's new U.S. CEO is dedicated to keeping the company's shelves stocked, addressing a problem the retail giant hasn't always been happy to discuss publicly.
"We will deliver against these key customer requirements: being in stock, clean stores, the right price, the right items, improved service, better productivity," said U.S. CEO Greg Foran, announcing his priorities on a pre-recorded conference call with analysts Thursday.
Bloomberg reported last year that Walmart was struggling to keep shelves stocked because it had opened new stores while cutting down on staffers and hours.
Walmart officials at first called the premise of Bloomberg's reporting "inaccurate," leading Bloomberg to publish another story featuring emails from Walmart customers around the country, that suggested the problems were actually widespread.
But Walmart executives admitted at an internal meeting earlier this year that they needed to stock shelves correctly, saying it could be a $3 billion opportunity for the company, according to notes from the meeting obtained by Bloomberg.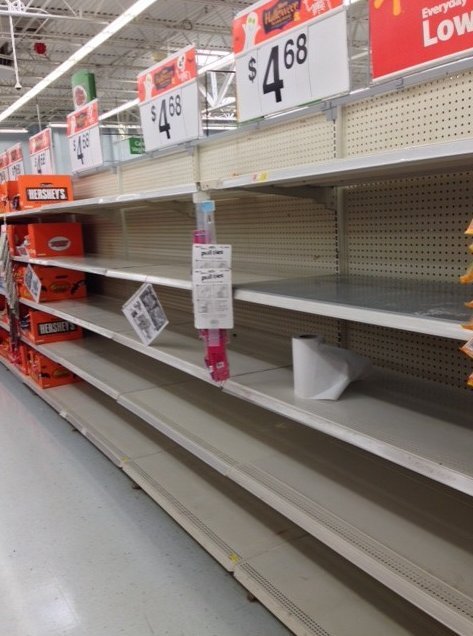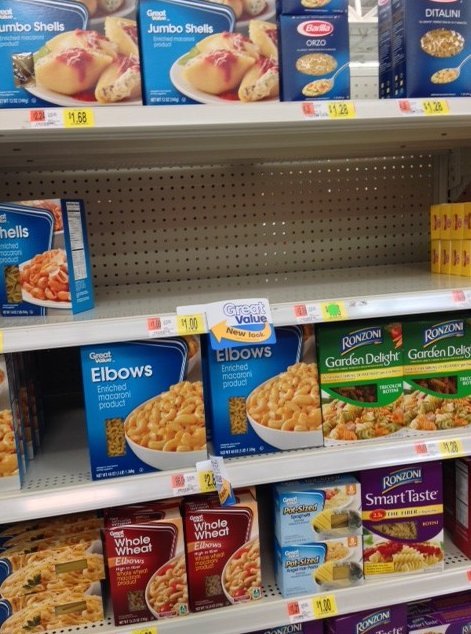 Photos of empty Walmart shelves in October 2013, taken by Brian Sozzi, the CEO of Belus Capital Advisors.
In the earnings call on Thursday, Foran noted that Walmart increased the number of associate hours in its latest quarter in a handful of store departments, including overnight stocking. That has helped improve the stocking situation some, according to Brian Sozzi, the CEO of Belus Capital Advisors.
Below are some photos of well-stocked Walmart shelves, taken by Sozzi took within the past month: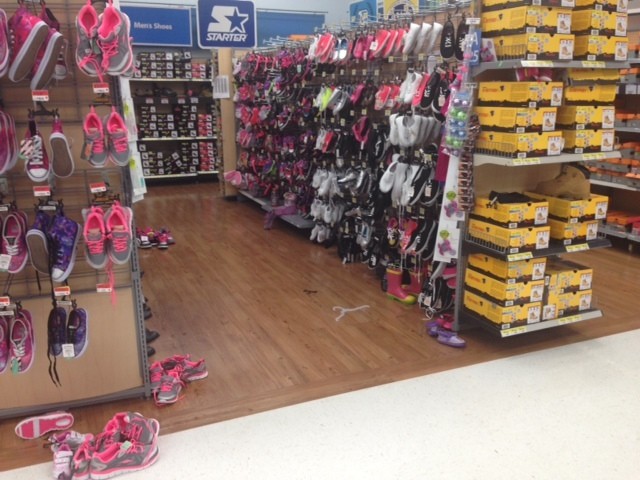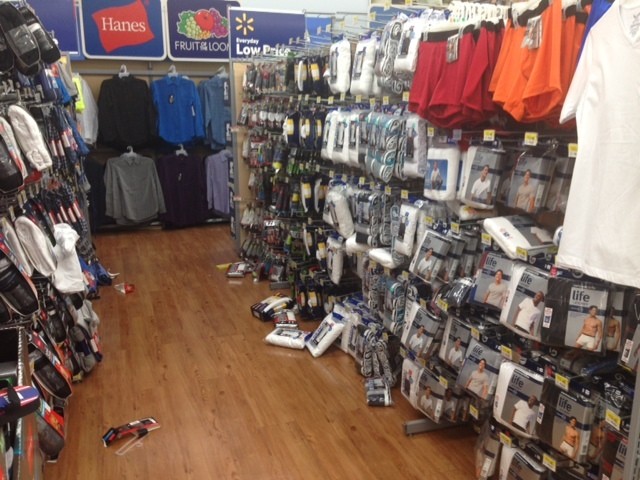 Making sure the company has the right level of merchandise on its shelves is something the company is "always working on," Walmart spokesman David Tovar told The Huffington Post on Thursday. Walmart's U.S. CEO Foran addressed the importance of well-stocked shelves at a meeting with staffers in Denver on Thursday to get ready for the holidays, Tovar added.
"Being in stock is a key retail fundamental, and it's been that way in retail for many, many years, and it will be that way in the future," Tovar said. "We've got to get it right because the customer can't buy something if it's not on the shelf."
Bare shelves are just one of the many problems Foran, who was appointed a few weeks ago, will have to address if he wants to turn Walmart's U.S. business around. On Thursday, Walmart reported that sales were flat in its latest quarter at U.S. stores open more than a year, a retail measure known as same-store sales. That comes after a string of five quarters of negative same-store sales.
The economy's slow recovery is squeezing low-income Americans, Walmart's core customer. As a result, they aren't spending as much at Walmart and other stores.
Walmart is also struggling to compete as Americans shift their shopping patterns. Customers looking for convenience are increasingly heading online or to dollar stores, pharmacy chains and neighborhood shops instead of schlepping out to a Walmart supercenter in the suburbs. Walmart has responded by rolling out a suite of Neighborhood Market stores, which have performed better than its more traditional supercenters.
The company has also beefed up its e-commerce business in recent months, including offering a price-matching service and revamping Walmart.com so it is easier to navigate. Global e-commerce sales increased 24 percent in the latest quarter, company executives said Thursday.