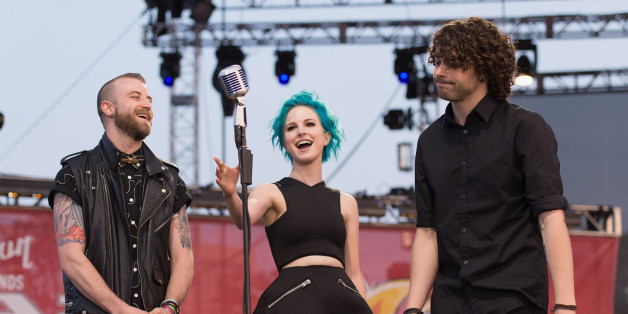 Paramore's Hayley Williams took a moment during the band's Tuesday night show in Denver to recognize Robin Williams, who died on Monday. In a moving speech about sadness and fear, she spoke of overwhelming depression and the way out of a dark period.
"There was a point right before we released the new record, actually when we were writing it, that this song sort of spilled out of us," Williams said. "I realized how sad we had been. We had been in this place where we weren't content or fulfilled anymore."
Williams continued the intro to "Last Hope," saying, "It was very scary. It was very depressing, then this song happened, and a light came on. It was amazing how much I realized that I was a part of something... that we, the three of us, were a part of something," she said, sitting down at the keyboard. "I want you to know before you leave tonight that you, being here tonight, listening to any of your favorite bands, writing songs yourself, writing poems, reading books, any of that: you're a part of something. It goes on way longer than any of us will be alive. You are a part of something. Please know that. This song goes out to Robin Williams."
Watch her moving speech and the live version of "Last Hope" below.
BEFORE YOU GO
PHOTO GALLERY
Entertainers We've Lost In 2014