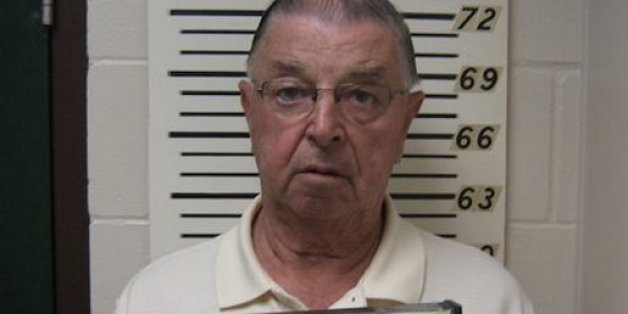 An Iowa legislator who allegedly had sex with his mentally incapacitated late wife has been charged with sexual abuse.
Henry Rayhons, 78, a Republican state representative from Iowa House District 8, was told by medical staff on May 15 that his wife, 78-year-old Donna Rayhons, no longer had the mental ability to consent to sexual activity, according to a criminal complaint obtained by WHO-TV.
Donna Rayhons, who suffered from Alzheimer's disease, had been living in Concord Care Center in Garner, Iowa, since March, according to the Des Moines Register.
On May 23 — 8 days after being told his wife could no longer consent — Rayhons went into his wife's room at the nursing home and closed the curtains that separated the woman from her roommate. The roommate later told staff that the noises she heard indicated Rayhons was engaged in sexual activity with his wife.
Surveillance video also allegedly shows Rayhons throwing his underwear into a laundry bag as he left the room, according to the complaint.
In an interview with law enforcement in June, Rayhons allegedly confessed to "having sexual contact" with his wife, according to KCCI. He also allegedly admitted that he had a copy of the document that stated his wife did not have the cognitive ability to give consent.
Rayhons was charged with third-degree sexual abuse on Friday.
Elizabeth Barnhill, executive director of the Iowa Coalition Against Sexual Assault, told the Des Moines Register that even though spousal rape has been illegal in Iowa for about 25 years, arrests for the crime are rare and "convictions are even rarer."
Barnhill also noted that sexual assault between spouses is not considered a "forcible felony" in Iowa.
Henry and Donna Rayhons had been married since 2007, according to the Iowa City Press-Citizen. She died on August 8.
Henry Rayhons' family wrote in a statement about the allegations:
We believe that nursing home patients do better, emotionally and physically, with consistent and proper social stimuli form [sic] spouses, relatives and friends. Accusing a spouse of a crime for continuing a relationship with his spouse in a nursing home seems to us to be incredibly illogical and unnatural, as well as incredibly hurtful.
CORRECTION: A previous article incorrectly referred to Donna Rayhons' roommate at the nursing home as a "he." Her roommate was a woman.


Like Us On Facebook |

Follow Us On Twitter |

Contact The Author
BEFORE YOU GO
PHOTO GALLERY
Dangerous Days