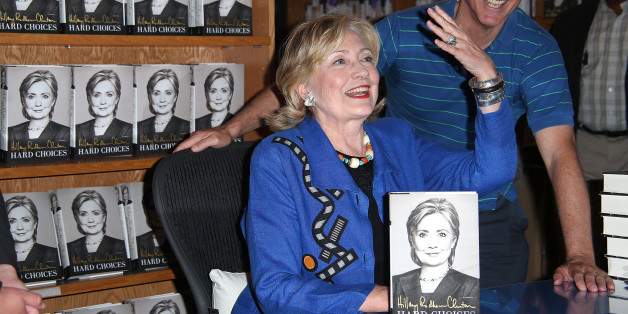 After the Las Vegas Review-Journal broke news about Hillary Clinton's requests for speaking events, ABC's "Good Morning America" anchor Dan Harris joked Monday that the former secretary of state may be picky about everything down to her candy choices.
Co-host Ron Claiborne read off some of Clinton's specifications for her events -- which include travel on a private jet, a presidential suite to stay in, and the presence of a stenographer -- prompting Harris to ask, "Did she specify which color M&M's she would like?"
It's not an unreasonable question, given the demands laid out in the contract uncovered by the Las Vegas Review-Journal's Laura Myers.
The paper reported Saturday on specifics of the contract for Clinton's speech at a University of Nevada, Las Vegas Foundation fundraiser in October. Clinton will receive $225,000 for speaking at the dinner. In exchange, she will attend for 90 minutes and pose for a maximum of 50 photographs with no more than 100 people. That's a discount: Her regular fee is $300,000, Myers reported.
Because freedom of information laws allow media outlets to request documents from the public universities that have asked Clinton to speak, reports on the specifications for her events aren't exactly top secret. Last month, the Washington Post published a story on the similar requests Clinton made when she spoke at the University of Buffalo.
The Washington Post noted that the former secretary of state has previously donated her speaking fees from public university events to the family's nonprofit Clinton Foundation. According to the Review-Journal, students from the University of Nevada, Las Vegas have asked that all or some of Clinton's fee for her upcoming Las Vegas event be donated back to their school.
The stories about Clinton's speaking fees and requests come at a time when she has been criticized for being an out-of-touch elitist. She made waves in June by saying she and her husband, former President Bill Clinton, were "dead broke" when they left the White House, and again drew criticism for saying they are different from fellow multimillionaires who are "truly well-off." The Clintons have made more than $100 million from book deals and paid appearances since 2001.
BEFORE YOU GO
PHOTO GALLERY
Supreme Court Hobby Lobby Decision