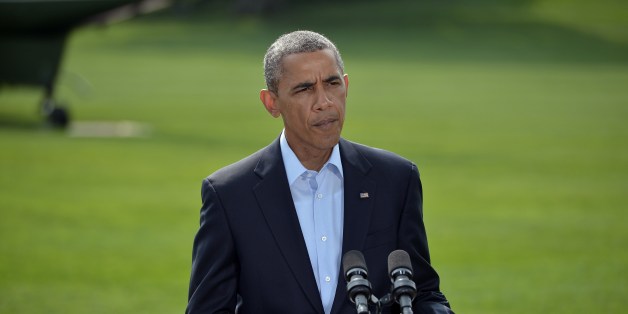 Another national poll finds support for the airstrikes in Iraq. Two new surveys find a big racial gap in perceptions of events in Ferguson, Mo. And Nate Cohn warns about polling errors in Alaska. This is HuffPollster for Monday, August 18, 2014.
AMERICANS SUPPORT AIR STRIKES, BUT CONCERNED ABOUT FURTHER ENTANGLEMENT - Susan Page: "Americans are increasingly inclined to say the United States has a responsibility to respond to rising violence in Iraq, a USA TODAY/Pew Research Center Poll finds, although most also express fears about getting pulled back into a extended conflict there. In a shift of opinion in recent weeks, those surveyed by 44%-41% say the U.S. bears a responsibility to 'do something' about the violence. That's a shift from last month, when by 55%-39% a majority saw no U.S. responsibility to act….But even some Americans who see a responsibility to act are worried about an expanding commitment less than three years after U.S. withdrew combat troops. A 51% majority are more concerned that the U.S. will go too far in getting involved. About a third, 32%, say their greater concern is that the U.S. will not go far enough in stopping the Islamist militants." [USA Today, Pew]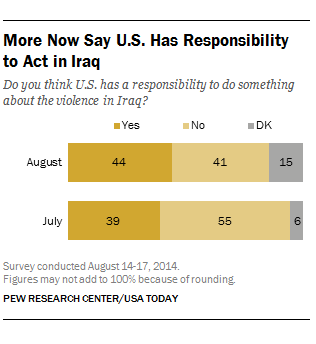 Consistent with earlier polling - HuffPollster, last week: "Americans back President Barack Obama's decision to begin conducting air strikes in Iraq, but strongly oppose sending American ground troops to fight the Islamic State, also known as ISIS, a new HuffPost/YouGov poll finds. Fifty-eight percent of Americans in the new poll supported Obama's authorization of air strikes against insurgents in Iraq, while 24 percent said they oppose the move...Americans are considerably more supportive than they were in earlier polling that asked them simply to consider the possibility of such strikes. A June HuffPost/YouGov poll asked Americans to weigh possible interventions in Iraq, with just 44 percent in favor of air strikes and 33 percent opposed." [HuffPost]
RACIAL DIVIDES ON SHOOTING OF MICHAEL BROWN Emily Swanson: "Black Americans are far more likely than white Americans to believe that race played a role or that the shooting raises questions about race. According to a new HuffPost/YouGov poll, Americans are divided over whether Brown's shooting was an isolated incident (35 percent) or part of a broader pattern in the way police treat black men (39 percent). But among black respondents, 76 percent said that the shooting is part of a broader pattern, while only 40 percent of white respondents agreed….While white respondents were split, 34 percent to 32 percent, on whether the police reaction has been reasonable or unreasonable, black respondents were more likely to say that the police have been unreasonable, 48 percent to 16 percent. And while white respondents were more likely to say that residents' reactions have been unreasonable than reasonable, 48 percent to 21 percent, black respondents tended to say that residents' reactions have been reasonable, 42 percent to 31 percent." [HuffPost]
Similar findings - Pew Research: "Blacks and whites have sharply different reactions to the police shooting of an unarmed teen in Ferguson, Mo., and the protests and violence that followed. Blacks are about twice as likely as whites to say that the shooting of Michael Brown 'raises important issues about race that need to be discussed.' Wide racial differences also are evident in opinions about of whether local police went too far in the aftermath of Brown's death, and in confidence in the investigations into the shooting….By about four-to-one (80% to 18%), African Americans say the shooting in Ferguson raises important issues about race that merit discussion. By contrast, whites, by 47% to 37%, say the issue of race is getting more attention than it deserves."
FEW THINK CONGRESSIONAL INCUMBENTS DESERVE REELECTION - Frank Newport: "Nineteen percent of U.S. registered voters say most members of Congress deserve re-election, roughly the same as in two measures earlier this year. This is on pace to be the lowest such 're-elect' sentiment in a midterm election year over Gallup's history of asking this question since 1992….Americans' views of most members of Congress have always been more negative than their views of their own member. But as noted, voters' views this year about most members of Congress have descended to the lowest levels ever seen, while their views of the advisability of re-electing their member, although historically low, are no lower than they have been in previous midterm election years. This has resulted in a 31-percentage-point gap between the re-elect measure for "your member" versus "most members" of Congress -- the widest such gap in a midterm year in Gallup's history. In 2010, for example, the gap in the final poll before that year's elections was 18 points, and in 1994, it was 16 points." [Gallup]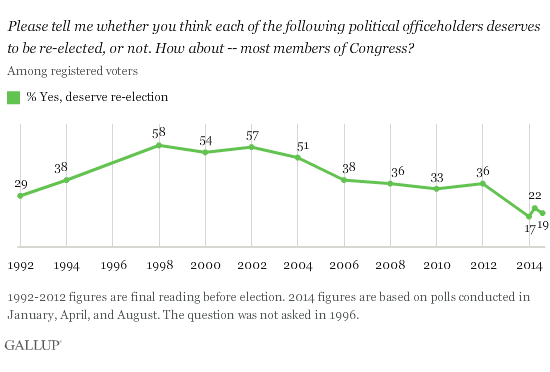 WHY POLLING ALASKA IS TRICKY - Nate Cohn: "Polls suggest that the party establishment will win this final primary, but between the challenges of polling in Alaska and strange name games, there's plenty of uncertainty….[P]olling errors in primaries are usually larger than those in general elections. That may be especially true in Alaska, a state with a reputation for being challenging to poll. That reputation stems from an uninterrupted string of polling errors going back a decade: In 2004, Lisa Murkowski trailed in the only two nonpartisan polls of October, yet won; Mr. Begich was thought to have a significant lead in October 2008, but he won by only a point; Mr. Obama was thought to trail by perhaps 10 to 15 points in 2008, but he lost by more than 20; Ms. Murkowski trailed again in 2010, but her write-in campaign ultimately prevailed….The explanations for these misfires vary. The state is at once one of the nation's most urban — only New York City has a larger share of its state's residents than Anchorage — and one of the most rural; two-thirds of Alaska's communities aren't accessible by road and depend on satellite- and cellular-based telecommunication services. The state's far-flung populations — including the native people of Alaska, who represent 14 percent of eligible voters — are hard to reach to pose poll questions. The state's population is no greater than that of the average congressional district….The ballot itself poses another, unusual complication: the presence of another Dan Sullivan, who happens to be the mayor of Anchorage." [NYT]
Or is it? - Josh Katz, on August 7: "Alaska is notorious for being difficult to poll...But it's not entirely clear why the state should pose such difficulties. Sure, it's a large state — larger than the 22 smallest states combined, with many communities accessible only by boat or plane. But in permanent settlements, telephone service has been ubiquitous for decades....To try to get a sense of how pollsters have fared against these challenges, I decided to look at polls from Senate races since 1992 in which at least three pollsters released a poll within three weeks of Election Day....When you average these errors across races, Alaska comes in as the fifth-most error-prone state, ranking behind states like Maine, New York and Maryland. While the state does indeed rank on the higher end of the scale, you rarely read of the inherent risks and error-prone nature of polling in New York. The point isn't that polling in Alaska is easy. It certainly poses tough challenges, ones for which out-of-state pollsters may not always be prepared. But it's not clear that we should discount numbers coming out of Alaska any more than we should numbers from, say, Georgia or Pennsylvania." [NYT]
HUFFPOLLSTER VIA EMAIL! - You can receive this daily update every weekday via email! Just click here, enter your email address, and and click "sign up." That's all there is to it (and you can unsubscribe anytime).
MONDAY'S 'OUTLIERS' - Links to the best of news at the intersection of polling, politics and political data:
-Jonathan Rodden explains how Ferguson is a is "functioning multiracial community," despite a pundit narrative to the contrary. [MonkeyCage]
-Seth Masket shows how Ferguson is a "serious outlier" in terms of black representation in local government. [Pacific Standard]
-Jens Manuel Krogstad and Richard Fry chart the increasing level of minority enrollment in U.S. public schools. [Pew]
-Data scientists continue to spend much of their time on "data wrangling" rather than analysis. [NYT]
-xkcd engages in database humor. [xkcd via @kwcollins]