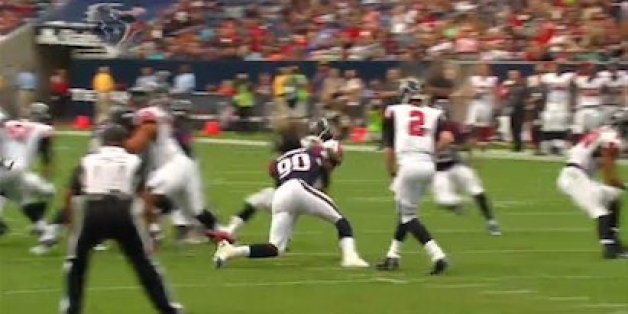 Opposing offensives lines, running backs and quarterbacks have been warned. Jadeveon Clowney is coming. In his second preseason game on Saturday, the 2014 No. 1 overall draft pick only played in two series but still terrorized the Atlanta Falcons offense.
On back-to-back plays, Clowney delivered a crushing hit on Atlanta running back Antone Smith and then sacked quarterback Matt Ryan. The hit on Smith looked awfully familiar and many who were watching seemed to be very impressed. Smith on the other hand, was not.
"Just a guy. I don't see anything special. He's just a guy," Smith said of Clowney after the game, via CBS Houston. "He's a guy who plays defensive end. He plays pretty good. Made a good play."
Take a look at these plays and see if you think Clowney is "just a guy."