An albino crocodile known as "Michael Jackson" has been put to death after it killed a 57-year-old fisherman on Australia's Adelaide River.
This grisly death happened Monday about 37 miles from Darwin. Officials said the man waded into a river to unsnag his line when, suddenly, the 14.7-foot crocodile attacked the man.
"He was there with his wife and he was fishing on the water's edge," Police Superintendent Jo Foley told ABC.net.au. "She left the scene because she saw this happen."
Paramedics treated her for shock.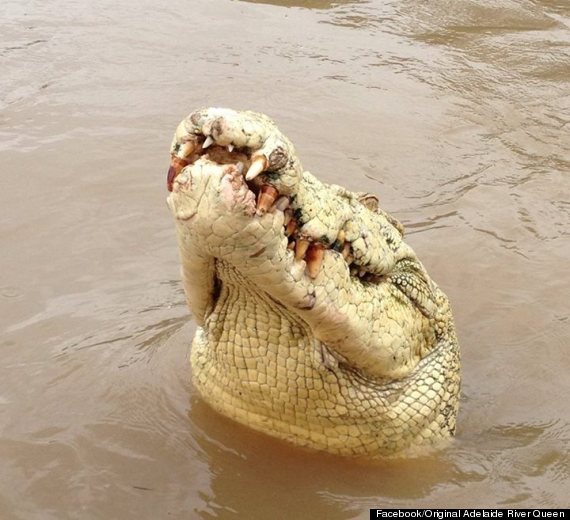 Police and rangers quickly scoured the river looking for "Michael Jackson" and, later that night, shot and killed the crocodile and recovered the unnamed man's body.
"They acted appropriately to shoot him but it's a real shame they had to do it. He is a well-known, well-loved crocodile," Adam Britton, a crocodile researcher at Charles Darwin University, told the Sydney Morning Herald.
Britton told the paper that albinism is "incredibly rare" in crocodiles so "Michael Jackson" was especially popular with tourists who took river cruises where guides dangle meat on a hook to get the creatures to jump out of the water.

"It was always a thrill when he appeared," he said.
Tour operator Rob Marchand says the crocodile's albinism may have also been what made him so aggressive.
"Michael Jackson was one in a million, and unfortunately being an albino would have been picked on by all the others, its a big pecking order," Marchand said, according to SBS.com.au.
He said the killer crocodile had been in that part of the river for several years. Recently, there had been a lot of fighting between the creatures as breeding season approached.
"The croc has only been doing what nature intends it to do, and that's survive," Marchand said. "They know how to do three major things: eat, reproduce and aggression ... if you're not going to look after yourself, you'll find yourself being eaten."
This tragedy marks the third confirmed crocodile attack in Australia this year. A 12-year-old boy died in January and a fisherman was snatched in June, according to Mashable.com. Both attacks happened in Kakadu National Park in the Northern Territory.
Like Us On Facebook |

Follow Us On Twitter |

Contact The Author
BEFORE YOU GO
PHOTO GALLERY
Animals In The News