A Kansas City police officer is under scrutiny after he weighed in on the Michael Brown shooting on Facebook.
KCTV reported on Monday that Marc Catron is under internal review after he published two racist Facebook posts, including the one below.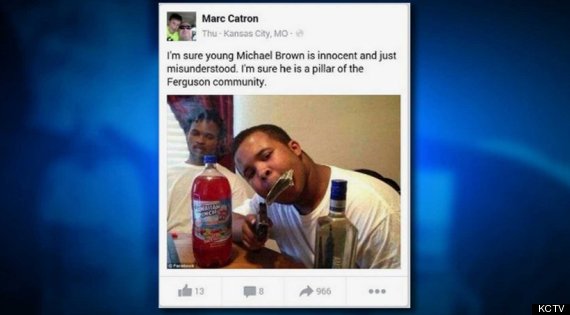 The photo is not of Michael Brown, who was killed by a Ferguson police officer earlier this month. As the Oregonian reports, it is actually a picture of a Washington County murder suspect.
But, as Gawker points out, "if you're a racist and all black men look alike to you, then, sure, it's Michael Brown."
Catron also re-posted a meme that said "Remember how white people rioted after OJ's acquittal? Me Neither."
Again, as Gawker notes, Simpson had access to a team of high-priced lawyers, something most caught up in the criminal justice system do not have.
It's unclear when the Facebook posts were published, and the department wouldn't tell KCTV anything about what punishments Catron could face.
But the department's social media policy says officers can't post anything that could "negatively affect the public or professional perception of the department."
Officers must also refrain from posting anything that would "ridicule, malign, disparage or otherwise express bias anything any race, any religion or other protected class of individuals."
Like Us On Facebook |

Follow Us On Twitter |

Contact The Author
BEFORE YOU GO
08/26/2014 7:49 AM EDT
The Toll On Michael Brown's Family
USA Today's Yamiche Alcindor provides an intimate look at how Michael Brown's parents have been dealing with the loss of their son:
Phones constantly ring with reporters asking for interviews or family members offering support. Last week, as demands reached a tipping point, both parents moved into hotels to shield themselves.

In the days leading up to the funeral, Brown's mother continued to cry and spoke in whispers as she tried to explain her feelings.

"They say tomorrow is going to be the hardest day, but I think today was — just seeing my baby laying there, cold," Lesley McSpadden, 34, told USA TODAY. "It did something to my heart. It's too much. It's too much."