In the video above, 4-year-old Eliza O'Neill sings two lines from the song "We are Young" by Fun. Eliza loves to sing, but if her parents don't raise the $2.5 million that's needed to fund a clinical trial for Sanfilippo Syndrome, the little girl won't be able to.
The disorder, which Eliza was diagnosed with in July of 2013, "makes the body unable to properly break down long chains of sugar molecules called glycosaminoglycans." It will cause Eliza to lose many of her functions -- her speech, her ability to walk, and eventually, it will take her life.
But not if her parents, Glenn and Cara O'Neill, have anything to do with it. For the last few months, they've worked tirelessly to raise enough money to fund a clinical trial that could save her life. In June, the Saving Eliza campaign raised the most money any campaign has fundraised through crowdfunding website GoFundMe.
Now, in lieu of the viral ice bucket challenge that's raised almost $23 million as of Tuesday morning for ALS, the O'Neills are challenging people to #Sing2Lines of any song, post the video to social media, then tag 5 friends to do the same. If not, they're asking those nominated to donate $50 to their cause.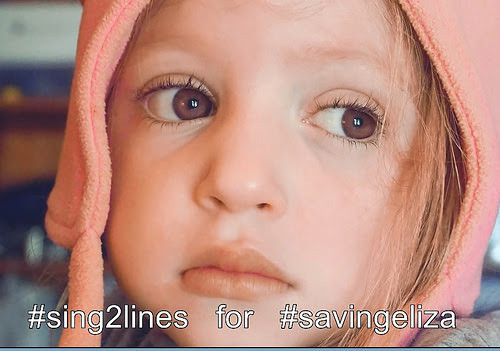 The O'Neills have provided text that anyone who wants to get involved can copy/paste on social media:
I've been challenged to #sing2lines for #savingeliza. This urgent campaign is to stop the fatal childhood disease Sanfilippo Syndrome for Eliza and other kids. I challenge my 5 friends (add name tags here) to sing 2 lines from any song of your choosing, and challenge 5 of your freinds. Should you not accept, please we ask donate $50 to www.SavingEliza.com (and you can always sing, challenge and donate!) Thank you! #sing2lines #savingeliza
BEFORE YOU GO
PHOTO GALLERY
Love in One Photo