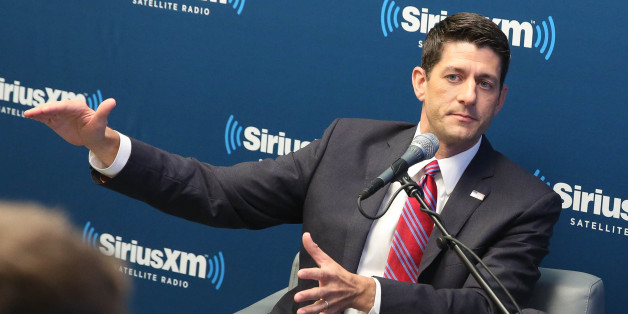 WASHINGTON -- Rep. Paul Ryan (R-Wis.) waded into the Ferguson, Missouri, controversy on Tuesday and said the best way to bring about resolution is to let law enforcement do whatever they need to do.
"We should take a deep breath, sit back and let law enforcement do their job," he said during an interview with SiriusXM's David Webb. "Let the investigation take place so that the facts can be taken as the facts, and let justice be done appropriately."
Ryan, a potential 2016 presidential contender, said his thoughts are with the family of Michael Brown, the unarmed black teenager who was fatally shot on Aug. 9 by a white police officer -- an incident that has since sparked nightly clashes between local police and protesters. But in terms of next steps, the Wisconsin Republican said people should step aside to let law enforcement carry out their responsibilities.
"I think it's wrong to prejudge the outcome of these things or to try and attach our own personal political agenda to this tragedy," he said. "It would be disrespectful to this tragedy and the community and to the family, so I think as a public and as leaders, let's let law enforcement do their job."
What Ryan didn't address, though, is that much of the current controversy in Ferguson stems from the use of excessive force by local law enforcement. A militarized and mostly white police force has been turning up nightly -- with tear gas, armored vehicles and rubber bullets -- to counter a group of mostly peaceful black protesters furious about the lack of answers surrounding Brown's death.
Ryan spokesman Robert Swift told The Huffington Post the congressman was making the point that local, state and federal law enforcement officials need to be able to carry out their investigations.
Swift did not respond when asked if that means Ryan supports the militarized police response to protesters.
BEFORE YOU GO
08/26/2014 7:49 AM EDT
The Toll On Michael Brown's Family
USA Today's Yamiche Alcindor provides an intimate look at how Michael Brown's parents have been dealing with the loss of their son:
Phones constantly ring with reporters asking for interviews or family members offering support. Last week, as demands reached a tipping point, both parents moved into hotels to shield themselves.

In the days leading up to the funeral, Brown's mother continued to cry and spoke in whispers as she tried to explain her feelings.

"They say tomorrow is going to be the hardest day, but I think today was — just seeing my baby laying there, cold," Lesley McSpadden, 34, told USA TODAY. "It did something to my heart. It's too much. It's too much."