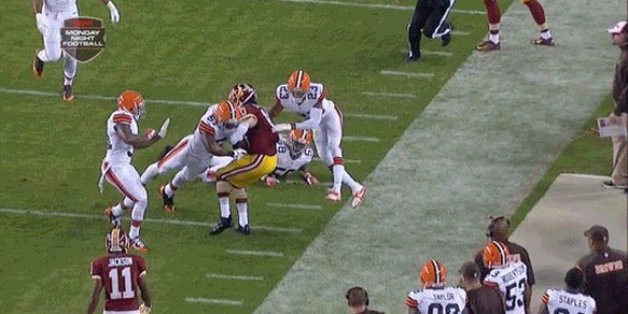 Robert Griffin III still needs some practice protecting himself.
The Washington quarterback only played in four series in a preseason game against the Cleveland Browns on Monday night, but still managed to take a few painful hits. After scrambling out of the pocket in the first quarter, Griffin failed to slide or get out of bounds and eventually took three hits from three different Browns defenders.
(GIF via @cjzero)
Griffin, who left the game with a bruised thigh, pledged to get better at avoiding brutal hits.
"It's going to continually be a work in progress. I'm going to keep focusing on getting down in those situations, knowing when to fight for the extra yards and when not to," said Griffin, via the Associated Press. "So the fans have nothing to worry about there. I'll keep getting better at that, I promise you that."