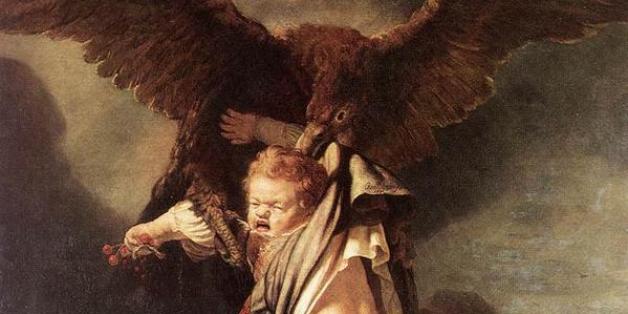 If you admire the soft sfumato of 15th century painting as much as you do the terse humor of Twitter, @WtfRenaissance is about to become your best friend.
Rita, Geri & Sam had been working hard on their Beyonce/Bowie mashup routine, and couldn't wait for the Eisteddfod pic.twitter.com/0Gs3CFUM62

— wtf renaissance (@WtfRenaissance) August 18, 2014
In essence, the account explains what's actually happening in both the mundane and wildly bizarre Renaissance artworks. From the proportionally strange portraits of the Virgin Mary and an infant Christ, to vaguely erotic images of humans and animals in intimate embraces, @WtfRenaissance decodes the confusing scenes in 140 characters or less, infusing bits of contemporary pop culture along the way. Warning: perfectly crafted hashtags are present.
Check out a preview of the parody masterpieces below. For more, you can feast upon the original Twitter, Tumblr or Facebook pages. There are references to ice bucket challenges, pet pics, Beyonce and helicopter parenting throughout. Enjoy.
Genevieve was to suffer through her mother's helicopter parenting until well into her twenties. pic.twitter.com/1Lmi97ylAN

— wtf renaissance (@WtfRenaissance) August 17, 2014
Ricardo gazed at his wife Emily and regretted ever forfeiting his dental plan in exchange for slightly higher wages. pic.twitter.com/288EhTaazA

— wtf renaissance (@WtfRenaissance) August 18, 2014
Once completed, Hannah's Ice Bucket Challenge video was probably going to break the internet. pic.twitter.com/GzNOtwnQOV

— wtf renaissance (@WtfRenaissance) August 18, 2014
Jason and Bobby couldn't disguise their disappointment at not making this year's NME cool list. pic.twitter.com/NMid2xbhFj

— wtf renaissance (@WtfRenaissance) August 18, 2014
Verity was already anticipating the amount of likes she would get when this one was uploaded to Instagram. #dogpic pic.twitter.com/fQtwIMvg68

— wtf renaissance (@WtfRenaissance) August 18, 2014
Denise and Luke were struggling to recover after yet another epic house party. pic.twitter.com/i67GyNw6bs

— wtf renaissance (@WtfRenaissance) August 17, 2014
Liam's mum insisted that falconry was too dangerous for a hobby. Until now, he had been determined to prove her wrong pic.twitter.com/mcGLiMOUol

— wtf renaissance (@WtfRenaissance) August 17, 2014
Derek looked around the room and sighed. Cirque du Soleil auditions were getting more outlandish every year. pic.twitter.com/zZNBSOzFxp

— wtf renaissance (@WtfRenaissance) August 17, 2014
Bob was new to Egyptian antiquities trading, but the fact the mummified baby was still crying indicated it was a fake pic.twitter.com/eHHlAzzb9Z

— wtf renaissance (@WtfRenaissance) August 16, 2014
Geoff shouldn't have invited his workmates to his stand-up gig. It's not easy to be heckled with "quit your day job" pic.twitter.com/GpZdPCTNSZ

— wtf renaissance (@WtfRenaissance) August 16, 2014
BEFORE YOU GO
PHOTO GALLERY
Susan Herbert's Pre-Raphaelite Cats