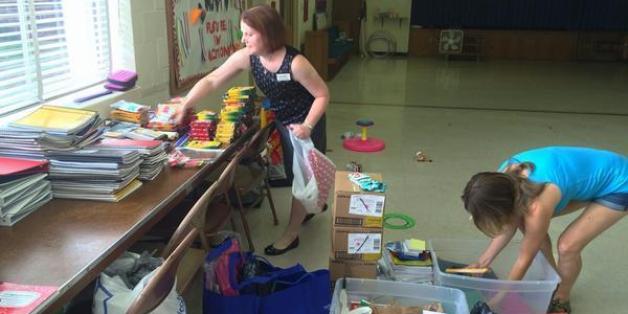 This article originally appeared on St. Louis Sprout & About
The Ferguson-Florissant School District has announced it will remain closed to students through Friday, Aug. 22. Here are some free resources and options for parents looking to keep their kids busy during these turbulent times.
Florissant Valley Branch of St. Louis County Library
Visit the library between 11 a.m. to 2 p.m., Aug. 20-22, to participate in art activities, play board games and build with Legos. The Magic House will offer make-and-take projects, and free lunch will be offered at 12 p.m. from Operation Food Search. And, of course, kids are encouraged to get lost in a great book. The Florissant Valley Branch is at 195 New Florissant Road South, Florissant, MO, 63031. Get the details.
Community Resource Drop-in Center
The United Way will be operating a drop-in center starting Wednesday, Aug. 20, for families living in the 63135 and 63136 zip codes with proof of residency. The center is at Dellwood Recreation Center (10266 W. Florissant Ave., St. Louis, MO, 63136). The center offers hot meals, food staples, children's activities and access to resources from local agencies. Visit the center from 10 a.m. to 2 p.m. Aug. 20-22. It will also be open 11 a.m. to 2 p.m. on Sunday, Aug. 24. Get the details.
Wellspring Church
Wellspring Church is offering educational and play time, crisis counseling, and free lunch every day until school opens. Wellspring Church is at 22 S. Florissant Road, Ferguson, MO, 63135. Get the details.
Gateway to Peace Museum at Bel Nor Community of Christ
Children in kindergarten through fifth grade can explore peace-building activities at the traveling Gateway to Peace Museum. Children can be dropped off at 7 a.m. and must be picked up by 5 p.m. The program runs from 9 a.m. to 3 p.m., Aug. 20-22, and free breakfast and lunch is provided. Get the details.
Ferguson Municipal Public Library
Keep kids reading by picking out a favorite book at this local library. The Ferguson library is open from 9 a.m. to 8 p.m. Monday through Thursday, Friday from 9 a.m. to 6 p.m. and Saturday from 9 a.m. to 4 p.m. Get the details.
Girls Inc. of St. Louis
Girls ages 5-17 from Ferguson-Florissant, Jennings and Riverview Gardens school districts can participate in activities at Girls Inc. through Friday, Aug. 22. The program is offered from 8 a.m. to 5 p.m. at the Nelson Center, 3801 Nelson Drive, St. Louis, MO, 63121. Breakfast, lunch and snack are provided. Space is limited to 300 girls. Call 314-385-8088. Get the details.
Missouri Botanical Garden
Visit the Missouri Botanical Garden before noon on Wednesday for free admission for St. Louis County (and city) residents. Get the details.
Missouri History Museum
Kids ages 2-5 can enjoy storytelling at the Museum on Fridays at 10:30 a.m. Children can also visit the Let's Build the History Clubhouse Exhibit and the museum's other exhibits, including Seeking St. Louis and 250 in 250. The museum is open Wednesday and Thursday from 10 a.m. to 8 p.m., Friday through Monday from 10 a.m. to 5 p.m. Admission is free but some special exhibits require paid tickets. Get the details.
Saint Louis Science Center
Science class is always in session at the Saint Louis Science Center. Stop by to dig for bones, learn about weather, engineering, energy and more. Get the details.
Conservation Areas
While there are no special events for children scheduled in the North County area during the week, several conservation areas in the North County area offer fishing, hiking and riding bikes. Visit Columbia Bottom Conservation Area, Bellefontaine Conservation Area or St. Stanislaus Conservation Area.
A locally owned and operated online magazine and calendar, St. Louis Sprout & About, www.stlsprout.com, connects St. Louis families with events and activities in the metro area. Follow them on Twitter at @stlsprout.
BEFORE YOU GO
PHOTO GALLERY
Ferguson Protest