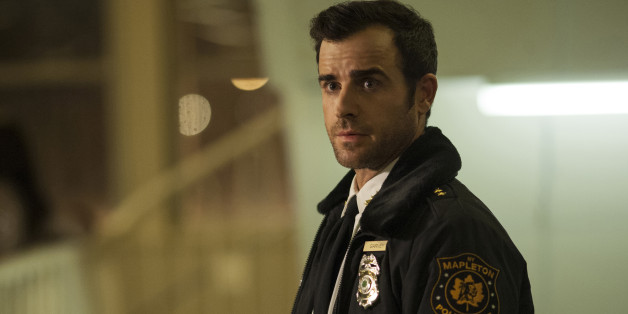 The world is finally paying attention to Justin Theroux, and not only because he's Jennifer Aniston's fiance, but also because he's the star of HBO's new series "The Leftovers."
The actor, who has also been getting a lot of attention for his abs and his bulge, has actually been around for a while. Theroux is the kind of actor who pops up in small parts in various TV shows and iconic movies that you might not have recognized at the time. In some roles he looks strikingly different (take his evil DJ in "Zoolander") and in others he plays the stereotypical douchey type. Besides his random characters, Theroux also wrote "Iron Man 2" and co-wrote "Tropic Thunder" -- no big deal. Since we'll be seeing Theroux on the small screen for a while now that "The Leftovers" is getting a Season 2, here's a look back on some roles he's played:
Evil DJ -- "Zoolander"
Wait, Justin Theroux is in "Zoolander"? That's exactly what we thought when we came upon this discovery. Theroux played the evil Rob Zombie-looking DJ near the end of the film who gets his ass kicked by Owen Wilson's Hansel -- never fight with a male model. Although it doesn't look like Theroux will be directing the "Zoolander" sequel, we really hope he shows up in a weird disguise again.
Timothy Bryce -- "American Psycho"
"American Psycho" is overflowing with douchey slicked-back-hair jerks who put 100 percent of their energy into dinner reservations. Theroux played one of those douchey guys, you know, the one with the raised lettering and pale nimbus business card, and he was perfect at it.
Adam Kesher -- "Mulholland Drive"
Playing yet another arrogant character, Theroux was Adam Kesher, the Hollywood director in David Lynch's "Mulholland Drive." The film was originally planned as a TV series with Theroux, but ABC ended up passing on the pilot. A Lynch regular, Theroux was also in the 2006 film "Inland Empire."
Cowboy -- "Romy and Michele's High School Reunion"
Long before the chain-smoking Guilty Remnant in "The Leftovers," Theroux was playing a silent smoker himself. In "Romy and Michele's High School Reunion" Theroux played the reticent cowboy who would toss his cigarette butts at Janeane Garofalo's Heather Mooney. He finally speaks at the end of the movie and even offers her a light, revealing that his name is Clarence.
Seamus O'Grady -- "Charlie's Angels: Full Throttle"
In the 2003 "Charlie's Angels" sequel, Theroux played bad guy Seamus O'Grady, leader of an Irish mob. He was the former boyfriend of Drew Barrymore's Dylan Sanders before she entered the Witness Protection program. He fights her in one scene, channeling his inner shirtless Bruce Lee (but with a terrible Irish accent).
Justin Andersen -- "Parks and Recreation"
Theroux appeared in Season 2 of "Parks and Rec" as Ann's friend Justin Anderson, a selfish, avid traveller who loves to talk about himself. He dated Leslie for a short time before she realized that he didn't really care anything she had to say.
Jared and Vaughn Wysel -- "Sex and the City"
Theroux made his first cameo on "Sex and the City" as Stanford's cocky friend Jared, an author named one of New York Magazine's "30 Coolest People Under 30." In Season 2 he plays Vaughn Wysel, another although very different writer who has some issues in the bedroom.
Leezar - "Your Highness"
Theroux proved that besides his arrogant characters, he can also have a sense of humor. In "Your Highness" he played the evil sorcerer Leezar who plots to impregnate a woman with a dragon so he can take over a kingdom.
Joe -- "Six Feet Under"
Theroux had a short cameo on "Six Feet Under" as Joe, Brenda's (Rachel Griffiths) neighbor-turned-boyfriend. The two moved in together and tried to have a baby until Joe walked in on Brenda having sex with Nate.
Bonus -- Muse "Hysteria"
You may or may not remember that time Theroux starred in Muse's music video for "Hysteria." He plays a guy who's obsessed with a prostitute and begins (shirtlessly, of course) trashing a hotel room.
"The Leftovers" airs on Sundays at 10 p.m. ET on HBO.
BEFORE YOU GO
PHOTO GALLERY
"True Detective"