This is Marina Abramovic, undoubtedly the world's most famous living performance artist.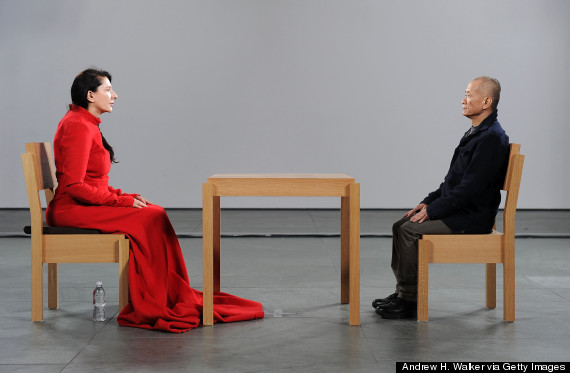 And this, dear friends, is Marina Abramopug.
#MarinaAbramopug 'engages with another member of the public at the #SerpentineGallery today - this just made my day. pic.twitter.com/iXtIB315Hu

— Fiona Russell (@firussell) August 19, 2014
Yes, there's a puppy version of the grandmother of performance art galavanting around London doing... well, nothing. Just like her namesake.
While Ms. Abramovic has been sitting/standing/staring in the Serpentine Gallery as part of her ongoing "512 Hours" project -- in which she literally does nothing for a total of 65 days -- little Abramopug is hanging out in Hyde Park doing what dogs do best. Nothing!
The dog, wearing a black braid and a red dress that bear an uncanny resemblance to the patron saint of making people cry, has been parodying Abramovic's "The Artist is Present" retrospective. You know, that time in 2010 when the famous performance artist took over the Museum of Modern Art by sitting in a chair for 700 hours, looking deep into the eyes of strangers and prompting them to weep in the process.
The dainty dog has made two appearances like this in the park thus far. And the world is better for it.
She is so, so present. See her live RIGHT NOW! #MarinaAbramopug #512hours #serpentinegallery #MarinaAbramovic pic.twitter.com/zhURHOwtSd

— Hannah Ballou (@hannahfballou) August 16, 2014
But who is Abramopug, exactly? Hannah Ballou, a comedian and performance artist based in London, claims to be the pup's owner and "personal assistant." She says the canine Marina is the brains behind the entire operation.
"I think Marina was at a point in her career where she really needed to be present with her public," Ballou told Hyperallergic. "And she's so in tune with nature, so being in the park outside the Serpentine Gallery was perfect. (Plus we were not invited inside.)"
i love this: http://t.co/MpAz1m7e2z #MarinaAbramopug pic.twitter.com/ND3GlRvMQr

— enricoippolito (@metamicio) August 19, 2014
So can we expect the stoic creature to become just as ubiquitous as the art practice of Marina Abramovic? Probably not.
"She's open to performing the work again," Ballou explained to Dazed, "if invited by a suitably prestigious institution. She's in discussions with rapper Snoop Dogg about a future collaboration, which we think will really shake up the art world."
We bow down to you, Abramopug. And we can't wait to surrender our smartphones to your Institute of Higher Learning.
Marina Abramovic's performance will occur June 11 until August 25, 2014 at Serpentine in London.
BEFORE YOU GO
PHOTO GALLERY
10 Things You Didn't Know About Marina Abramovic