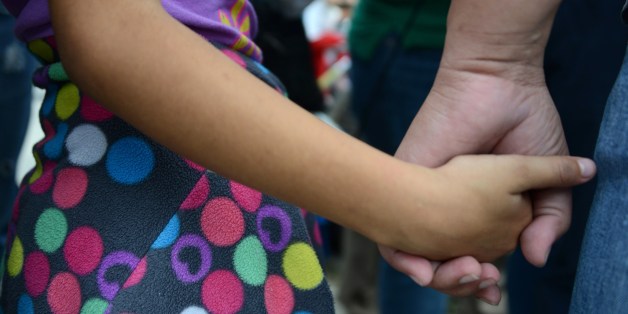 As a debate continues to rage in the United States over whether to treat the influx of unaccompanied minors at the border as refugees or to summarily deport them, The Los Angeles Times reports that minors deported to Honduras over the last month are being killed.
A morgue director in the city Honduran city of San Pedro Sula told The Los Angeles Times that "at least five, perhaps as many as 10" children killed there since February had been deported from the United States.
"There are many youngsters who only three days after they've been deported are killed, shot by a firearm," Hector Hernandez, of the San Pedro Sula morgue, told Times reporter Cindy Carcamo. "They return just to die."
Almost 63,000 unaccompanied minors -- the vast majority from the violence-plagued Central American countries of Honduras, El Salvador and Guatemala -- have crossed illegally into the United States since October. Many are fleeing the gang violence, poverty and political instability that has made the so-called "Northern Triangle" countries some of the most dangerous in the world.
The development has provided fodder for conservatives, who have blamed the influx of Central American minors on the Obama administration for what it views as lax border enforcement. House Republicans, joined by four Democrats, voted symbolically last month to do away with the president's policy of deferring deportation for undocumented immigrants who arrived here as children, despite the fact that little evidence indicates the policy prompted the current crisis.
But most Americans view the young migrants as refugees, according to a poll released last month by the Public Religion Research Institute. The poll found that 70 percent of Americans think the country should provide temporary support for them while their cases proceed in court, with a majority saying that those facing the threat of violence shouldn't be immediately deported.
Despite the fact that many view the minors as refugees, it's not clear how U.S. law will treat them.
Securing U.S. asylum requires proving a fear of persecution based on race, nationality, membership in a social group, or political opinion. U.S. courts haven't always viewed the threat of street violence, even in severe cases, as a route to protection in the United States. Those fleeing organized crime in Mexico since the escalation of that country's drug war in 2006, for example, have rarely been awarded asylum in the United States.
The White House, for its part, has responded to the crisis by pushing to expedite the deportation process for Central American minors and families traveling together in order to send the message to would-be migrants and human traffickers that those who arrive won't be allowed to stay.
BEFORE YOU GO
PHOTO GALLERY
Why Latin Americans Really Come To The U.S.