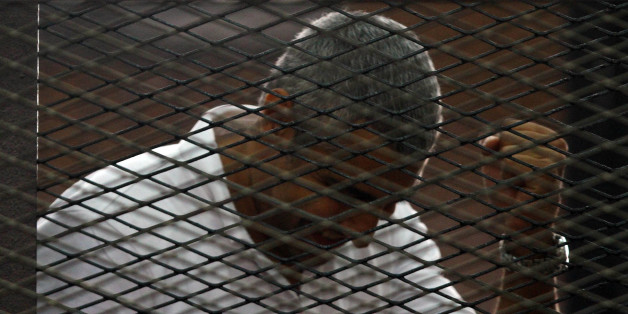 The fiancé of jailed Al Jazeera journalist Mohamed Fahmy is speaking out at length for the first time about their relationship and the horrifying reality of his prison sentence.
"I've decided to break my silence to give Canadians a chance to get to know the man that I love," Marwa Omara wrote in a post for CBC News Wednesday.
Read Omara's full post here.
Omara's fiancé, Fahmy, was detained in Egypt in December for allegedly airing false news and collaborating with the Muslim Brotherhood. He was sentenced to seven to ten years in prison in June on terrorism-related charges. He and his colleagues Peter Greste and Baher Mohammed have been imprisoned now for over 200 days.
Omara said that when the pair first began dating, she knew there would be some "dangers."
"It became the norm for Mohamed to show up to our dates reeking of tear gas after covering a protest," she wrote. "I learned to laugh when he pulled a disappearing act during social gatherings, only then to suddenly appear on TV, reporting yet another breaking news story for CNN."
She described the moment she heard the verdict, recalling that she and Fahmy were feeling "positive" and "tasted freedom." She called the sentencing "draconian," but added that the two have submitted a request asking for the right to wed in prison.
Other relatives of Fahmy have spoken out since his jailing, including his brother, Sherif Fahmy, who has been speaking for the journalist via Twitter.