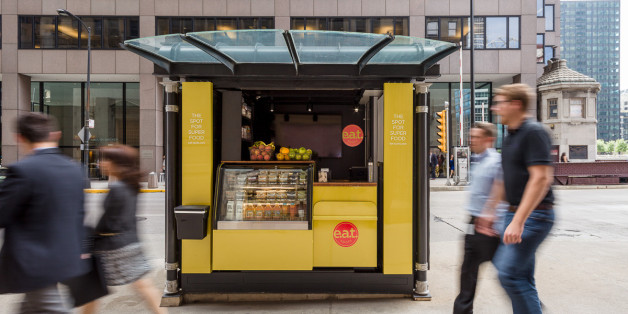 While a bustling city might not feel complete without a trusty newsstand, for many modern day 9-to-5ers, finding the latest power lunch is a bigger priority than finding the latest periodical.
With that reality in mind, the Chicago-based nonprofit e.a.t. is repurposing out-of-use newsstands into havens for healthy food.
"Our mission is to impact local food systems through education, agriculture and technology and we are doing that through social ventures, like e.a.t. spots, that have far-reaching implications," founder Ken Waagner told The Huffington Post via email.
E.a.t. (short for "education, agriculture and technology") opened the first of four planned "e.a.t. spots" Monday in downtown Chicago, with more planned for September.
The kiosks feature items like sandwich wraps, savory scrambles and kale salads priced between $4 to $7, as well as produce largely sourced from local farms.
While the stands are opening in a part of the city where healthy food options like salad bars and smoothies are plentiful, Waagner said the goal isn't to make a "boutiquey" kiosk targeting only well-heeled clientele; the project is working to accept cards for the Illinois version of the Supplemental Nutrition Assistance Program card.
"We want it to be for everybody," Waagner told DNAinfo Chicago.
The kiosks are staffed by members of StreetWise, a workforce development group that helps homeless find steady employment. Before the installation of the e.a.t. spots, StreetWise vendors sold fresh produce throughout the city (including food deserts) from mobile "Neighbor Carts."
"This ability for low-cost, high-quality, healthy food — it's a big draw," Streetwise Executive Director Jim LoBianco told DNAinfo Chicago. "That's what we saw from the mobile produce carts, how likely people are to stop and buy healthy food if it's immediately accessible."
Waagner said the immediate focus for the e.a.t. spots are the two downtown kiosks with the future goal of expanding in 2015 and ultimately "sharing best practices that can be applied and implemented nationally."
BEFORE YOU GO
PHOTO GALLERY
The Best Vending Machines Of All Time