An artist was removed from the Whitney Museum of American Art's colossal Jeff Koons retrospective after he splattered what was reportedly his own blood on one of the exhibition walls, forming the shape of an "X."
Hungarian-born performance artist Istvan Kantor, who has a well-documented penchant for utilizing his own blood for the sake of his craft, was taken to a nearby hospital for mental evaluation Wednesday after museum security removed him from the show.
No artwork was damaged during the incident, which was captured by photographer Antoine Lutens (see more from the Whitney vandalism at his Facebook page):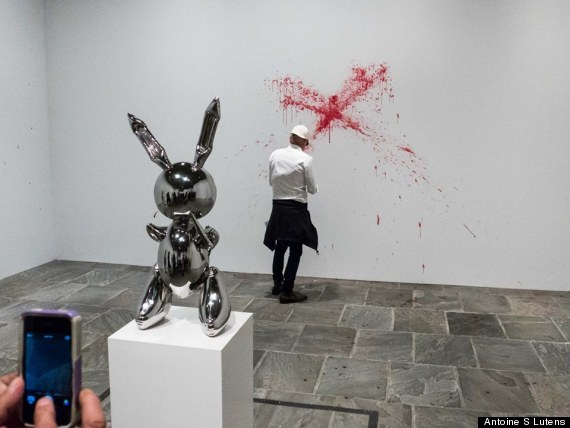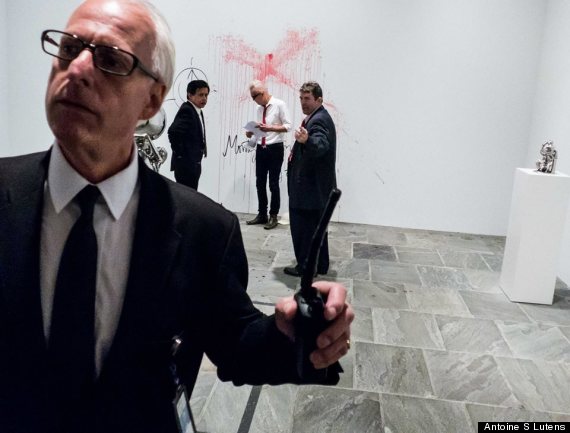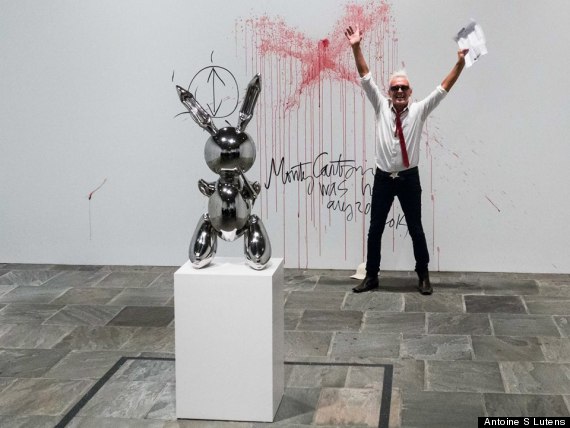 Kantor was released shortly after with no charges filed. According to Hyperallergic, he wrote about his subsequent plans on a Facebook page under his alter ego "Monty Cantsin Amen," the same moniker he attached to his bloody display on the wall behind Koons' "Rabbit" sculpture.
I just came out of mental hospital where the police took me after the Whitney I was discharged I am free I'll put out my Supreme gift manifesto that I handed to the museum after the intervention tomorrow now I go out for a drink in the lower east side thanks for your support Monty.
The rather shocking spectacle is apparently just the latest in Kantor's body of work, titled "Bloody Campaign." The artist has been apprehended on numerous occasions for executing similar stunts, in which yes, he hurls his blood inside esteemed museums and galleries around the world. Past credits include banishment from the Museum of Modern Art in New York and National Gallery of Canada.
Koons appears to be somewhat of a notable target of Kantor's. In 2004, Kantor attempted to spew a vial of blood on Koons' "Michael Jackson and Bubbles" sculpture in Berlin.