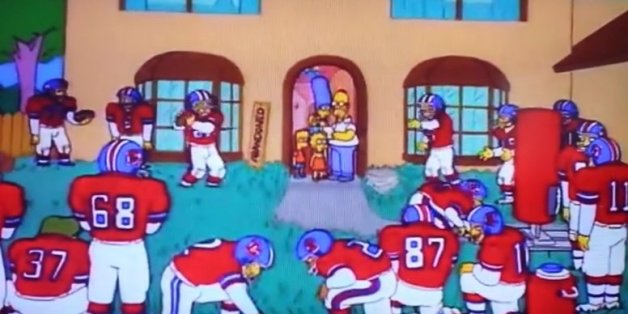 Lisa Simpson might have been right. The old ball yard may truly be the ideal place to spend a balmy summer's night. But that doesn't mean it should be the first place to look for sports-loving fans of "The Simpsons" as August gives way to September. They will instead be tethered to the family couch, laughing their way through a 552-episode marathon that stretches from Aug. 21 through Sept. 1 on FXX.
For those with plans to step away from the television to talk softball with friends or perhaps to head out to the local cinema for a short film about a man getting hit with a football during the 12-day marathon, below are the titles and scheduled run times of more than two dozen "Simpsons" episodes that somehow brought the wide world of sports to Springfield.
Go. Set. Your. DVR.
From Homer's star-making turn as the mascot for the Springfield Isotopes and Bart's enlightening mini golf moment to the harrowing consequences of Ralph Wiggum's juicing, anyone who catches even a few of these episodes won't be able to stop themselves from taking up that unforgettable chant of "Sports! Sports! .. Sports! Sports! .. Sports! Sports! .. Sports! Sports!"
"Dancin' Homer," 8/21, 6:30 p.m. ET

"Dead Putting Society," 8/21, 7 p.m. ET
"That putter is to you what a bat is to a baseball player! What a violin is... to the... the guy that... the violin guy! Now c'mon! Give your putter a name."
"Bart the Daredevil," 8/21, 8:00 pm

"Saturday's of Thunder," 8/22, 7:30 a.m. ET
"Dad, I don't know how to say this. I don't want to drive your car. It's slow, it's ugly, it handles like a shopping cart."
"Lisa the Greek," 8/22, 10 a.m. ET
"Today's game between the Denver Broncos and the New England Patriots is too close to call. But if you are one of those compulsive types that just has to bet, uh, I don't know... Denver."
"Homer at the Bat," 8/22, 11:30 a.m. ET
"Lisa on Ice," 8/23, 5:00 p.m. ET

"A Star is Burns," 8/23, 10:00 p.m. ET

"Marge Be Not Proud," 8/24, 7:00 a.m. ET

"Team Homer," 8/24, 7:30 a.m. ET"
"Mr. Burns? I, er, was wondering if you'd like to sponsor my bowling team... for... $500."
"You Only Move Twice," 8/24, 3:00 p.m. ET

"The Homer They Fall," 8/24, 3:30 p.m. ET

"The Cartridge Family," 8/25, 5:00 a.m. ET

"Bart Star," 8/25, 5:30 a.m. ET

"King of the Hill," 8/25, 2:00 p.m. ET

"Sunday Cruddy Sunday," 8/25, 9 p.m. ET
"Did it strike you as odd that in a Super Bowl show with Dolly Parton we didn't see any football or singing?"
"Brother's Little Helper," 8/26, 3:30 a.m.
"Saddlesore Galactica," 8/26, 9 a.m. ET
"He better win, because if he doesn't, it's a trip to the glue factory. And he isn't coming!"
"Tennis The Menace," 8/26, 7:30 p.m. ET

"Helter Shelter," 8/27, 1:30 p.m. ET

"Barting Over," 8/27, 4:30 p.m. ET

"Homer and Ned's Hail Mary Pass," 8/28, 1 p.m. ET
"I'm number one! I beat my son! Victory is mine! So kiss my behind!"
"The Great Wife Hope," 8/30, 5:30 p.m. ET

"MoneyBart," 8/31, 5:00 a.m. ET

"You Don't Have To Live Like A Referee," 9/1, 8:30 p.m. ET