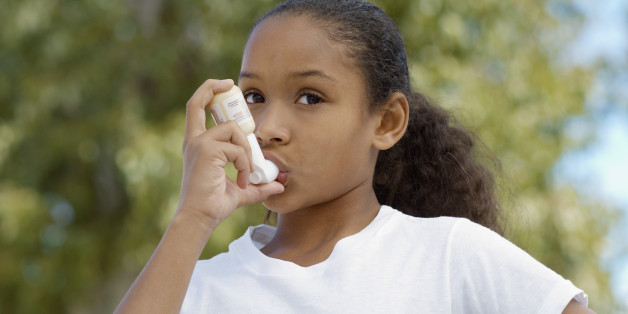 BY SHEREEN LEHMAN
NEW YORK Thu Aug 21, 2014 3:58pm EDT
NEW YORK (Reuters Health) – A new analysis of U.S. childhood asthma statistics finds racial differences persist in the proportions of African American and white children who develop asthma, but success in managing the disease is becoming more equal.
Disparities between white and black kids with asthma in rates of emergency department visits or hospitalizations have shrunk and rates of asthma attacks – another sign of poorly managed asthma – are the same, researchers found.
"In general, this is good news - once differences in asthma prevalence rates are taken into account, national estimates show that progress has been made in addressing asthma disparities among children," Dr. Lara Akinbami, who led the study, told Reuters Health in an email.
"But, the flipside is that disparities remain, especially for asthma deaths, and black children were increasingly likely to have asthma, and thus disproportionately at risk for the health risks that come from having asthma," said Akinbami, a researcher with the National Center for Health Statistics in Hyattsville, Maryland.
Health disparities are routinely measured to track progress toward their elimination, and to determine what kinds of interventions are more likely to improve results, she and her colleagues point out in the Journal of Allergy and Clinical Immunology.
A "Coordinated Federal Action Plan to Reduce Racial and Ethnic Childhood Asthma Disparities" (1.usa.gov/1nfnz0J) set out goals in 2012 and Akinbami said her team wanted to see what the situation and trends were at that point.
They looked at data gathered by the National Center for Health Statistics from 2001 to 2010 and found that about 4.4 million white kids had asthma in 2001, and that number rose slightly to 4.5 million in 2010.
But for black kids, the numbers increased significantly more, from 1.2 million in 2001 to 1.7 million by 2010.
The authors also wanted to assess trends in racial disparities in deaths and the use of healthcare to see how well or poorly kids with the disease are being managed.
But, Akinbami noted, the higher – and rising – rates of asthma among black children mean that some of the racial disparities in healthcare use and mortality are due solely to the higher percentage of black children who have asthma.
To get a clearer statistical picture, they decided to look at the trends in two ways. One, the more common way, is to compare the entire population of black kids and all the white kids. The other way is to focus just on children with asthma – who are the only ones "at risk" for deaths, hospitalizations and other asthma-related effects and healthcare use.
Looking at rates within whole populations, "We saw that black-white disparities in healthcare use remained stable (emergency department visits and hospitalizations remained about 3-4 times higher among black children in 2010) and that disparities in asthma deaths increased to about 7 times higher in black children in 2010," Akinbami said.
But in the "at risk"-only analysis, the racial disparities were much smaller and in some cases shrank from 2001 to 2010. Emergency department visits and hospitalizations were about twice as high among black children with asthma, which represents a decrease between 2001 and 2010. And deaths were about four times higher among black children compared to white children, a rate that was stable throughout the decade.
In the whole-population analysis, disparities between black and white children in rates of asthma attacks widened, but when just the at-risk kids were included, there was no disparity in rates of asthma attacks.
The authors suggest that examination of the "at-risk" rates may provide a more specific perspective than traditional whole-population statistical methods on group differences in the effectiveness of various interventions.
"There seems to be some encouraging data in this article," Dr. John Carl told Reuters Health.
Carl is a pulmonologist at the Cleveland Clinic in Ohio, who was not involved in the study.
"Although the prevalence rate is increasing in the African American population, it does not show that the severity of the disease has demonstrated the same degree of increase, so I think that's encouraging," he said.
"Unfortunately, not much is known about how to prevent asthma from developing, except to avoid smoking during pregnancy and around young children," Akinbami said.
"However, there is a lot of knowledge about how to control symptoms once a child develops asthma. There are two main strategies, and both require paying close attention to a child's symptoms, like being woken from sleep by coughing and wheezing, or not being able to play like other children," she said.
The first strategy is avoiding the things that cause asthma attacks, including allergens and respiratory infections, ranging from the common cold to the flu. "The second strategy is using the correct medication to help the airways stay open to prevent or reverse wheezing," Akinbami said.
"It is important to have regular visits with a healthcare provider who can teach children how to recognize symptoms, help identify the things that cause attacks and advise how to avoid them, and monitor which medications should be taken," she added. "The goal is for a child with asthma to feel like they don't have asthma at all."
SOURCE: bit.ly/1rmkaEY The Journal of Allergy and Clinical Immunology, August 1, 2014.
Copyright 2012 Thomson Reuters. Click for Restrictions.
BEFORE YOU GO
PHOTO GALLERY
What To Do If Someone Is Having An Asthma Attack