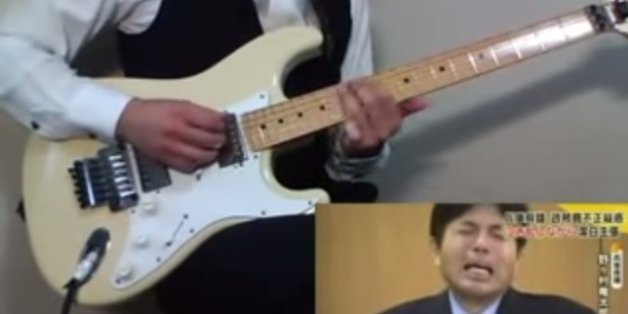 In case you missed it the first time, the viral video of a weeping Japanese politician is back, better than ever. Ryutaro Nonomura's rambling, dramatic apology for spending $30,000 of taxpayers' money on nearly 200 visits to hot spring resorts was already pretty absurd; now it's been set to the tune of an electric guitar!
The Hollywood Reporter offers this translation of some of Nonomura's wails:
"Whoever you voted for, it was always the same … I decided to become a political candidate … this Japan … this Japan … I just wanted to change the world … the aging of society … it's not just a problem of our prefecture … it's a problem for the Japanese people … I've staked my life … you just don't understand, do you?"
Online critics of that first video, HR notes, were not kind. Meanwhile, the guitar version has already been compared to a Frank Zappa song by YouTube's guitarheads. It also joins a proud lineage (see: this astonishing drum solo set to a speech by the German politician Edmund Stoibers, and anything by the Gregory Brothers).
BEFORE YOU GO
PHOTO GALLERY
25 Documentaries You Need To Watch On Netflix Now