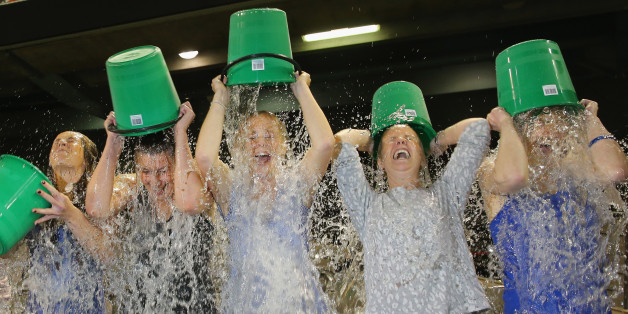 Updated on Aug. 26, 2014, 1:15 P.M. EST: The ALS Association announced in a statement on Tuesday that donations from the ice bucket challenge hit $88.5 million.
In just a few short weeks, the ubiquitous ice bucket challenge has topped $50 million for the ALS Association, and it's showing no signs of slowing down.
What started out as a grassroots stunt -- believed to be launched by pro golfer Chris Kennedy in Sarasota, Florida, to support his wife's cousin who has amyotrophic lateral sclerosis (ALS) -- has morphed into a social media sensation that's reached as high up as the White House.
Since July 29, the campaign has raised $53 million and collected more than $10 million on Thursday alone, Time reported.
To put that whopping figure into perspective, the group raised $2.2 million in the same period last year.
But the challenge -- which invites participants to either dump a bucket of ice over their heads or donate money and then task a friend to do the same -- wasn't always owned by the ALS community.
In April, daredevils took the "cold water challenge" to raise funds for Sheaves for Christ, a fundraiser under the United Pentecostal Church International, according to Bustle. Earlier in July, New Zealanders took the challenge to raise money and awareness for cancer charities.
But the challenge became synonymous with ALS, a disease that still has no treatment or cure, after supporters of Pete Frates, a 29-year-old who played Division 1 baseball at Boston College, grabbed the campaign by its reigns, according to the Associated Press.
Frates was diagnosed two years ago with the progressive neurodegenerative disease and is now paralyzed. He can't talk, relies on a feeding tube and communicates by using eye-tracking technology.
His supporters, dubbed "Team FrateTrain," organized a mass challenge in Copley Square in Boston for 200 people in August and the campaign has since spread like wildfire. Facebook CEO Mark Zuckerberg completed the challenge and nominated tech mogul Bill Gates, who in turn -- naturally -- rigged up his own water-dumping contraption to add his own twist.
Oprah, Lindsay Lohan, Justin Bieber and a slew of other A-listers each accepted the challenge, too.
Former President George W. Bush did it, but President Barack Obama decided to take the donation route instead.
Jody Porowski, founder and CEO of startup Avelist, attributes the campaign's success to the fact that it's easy, social, "ties into a person's ego" and resonates with a meaningful cause.
What is particularly remarkable about the virality of the challenge, supporters say, is the fact that for so long, ALS has been relegated to realm of taboos -- a disease far too depressing to talk about, let alone bring into the limelight.
Photographer Anthony Carbajal, 26, who was diagnosed with the disease five months ago, shared this sentiment in his moving ice bucket challenge video. It's a condition he's long feared, since his grandmother had it and his mother is in the advanced stages of the disease.
"I hate talking about [ALS]," Carbajal says in the clip. "That's probably why nobody talks about it because … it's so challenging to see and to talk about. Nobody wants to see a depressing person that's dying … they don't want to talk about it. They don't want their day ruined."
But it seems that people now are willing to "talk" even if learning about the disease's grave effects could put a damper in their day.
"It's just been wonderful visibility for the ALS community," Barbara Newhouse, ALS Association's national president, told the AP. "It is absolutely awesome. It's crazy, but it's awesome, and it's working."
Help support ALS research through the "Donate" button toward the top of the story.
BEFORE YOU GO
PHOTO GALLERY
Celebrity Ice Bucket Challenges