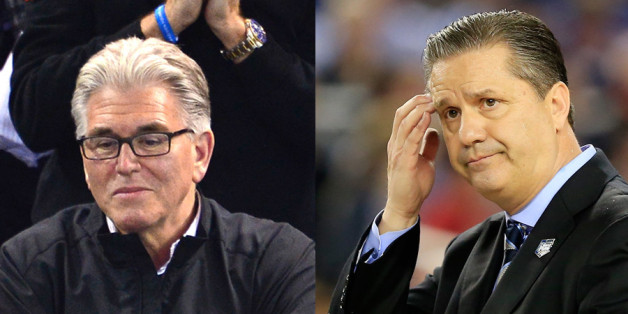 Mike Francesa, a radio host on New York City's WFAN, is never short on opinions, whether they be about ballplayers taking paternity leave or his apathy toward soccer. But when "John in Kentucky" called into his show Thursday to complain about comments Francesa made about Kentucky Wildcats men's basketball coach John Calipari, Francesa let someone else talk. At least for a tiny bit.
"John in Kentucky" was actually Calipari, who had just visited the studio, and the two got into some good-natured squabbling over Francesa's assertion that "there are better tacticians" than Calipari. Francesa was outright flowery in describing Calipari's recruiting and motivational skills, but his initial diss stuck in Calipari's craw.
Take a listen:
It all ends with either Francesa hanging up on the coach or the coach taking leave of the call himself. "Thanks for the call, 'cause you're gone," Francesa declares.
And thanks to those two for the lively debate and the possibility of more discourse down the road. We can't wait.
You can disagree without being disagreeable. Mike Francesa and I are good. Always have been. By the way, once again he's wrong. LOL!

— John Calipari (@UKCoachCalipari) August 21, 2014